EXPERIENCED BY VHAIKEE HUFANDA
A risky but worth-it experience
Due to the covid-19 situation, our university didn't really allow us to intern in other provinces and also I still didn't get the vaccination. So coming here, I tried not to tell my teacher that I will go to another province. I and my friend tried to plan for this situation for 2 months, any pros and cons of our decision in working at The Board Factory and compare it if it is worth it or not. I also worry about the punishment I may get from the university if they knew that I was going to another province for internship but I still stuck to my decision on going to intern at TBF. There are many challenges for the decision of working here such as the distance, vaccination, and university rules. 
However, TBF accepted me to be an intern so I don't want to lose this opportunity and they also provide everything that they can such as finding a place for my vaccination, picking me up from the train station and also providing a lovely place to stay. As I mentioned, I was picked up from the train station, because there is no flight so I need to come to Phangnga by train for 13 hrs! Nothing surprised me more than my boss, Mr. Dylan, not wearing slippers, came to pick us up from the train station. As I grew up in Bangkok, it really surprised me that someone walking and travelling around not wearing slippers but when I arrived at TBF, I found out that it's normal… and I even started walking around without slippers when I'm there… It's comfortable! 

Continuously, 13 hrs in the train and 4 more hours on the way to Khao Lak, we finally arrived at our lovely bungalow where I have to stay for quarantine for 14 days and it will be my home for 3 months. Our bungalow also has a cleaner every 3 days which I feel like living in a hotel…
P.S.: I didn't get any punishment from university and they knew I went to work at TBF as they understand that it is a good opportunity.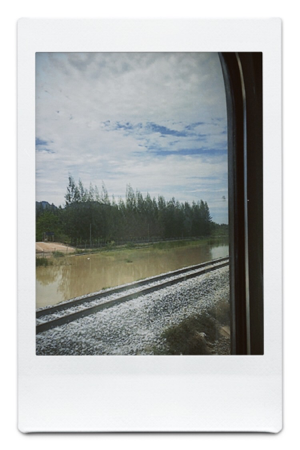 After the quarantine, I can finally go out and see the beauty of Khao Lak. I went to the TBF office to introduce myself with all the professionals there. I am kind of a bit stiff and not really talkative as I always am because it is the first day meeting everyone in the office but they make me feel loved and they all are friendly. After the first day, I get to feel comfortable walking around the office and talking with other workers as they treat me very nice. I worked in the office for nearly 2 weeks and found out that the workers can also work in the cafe which feels more relaxing. From that day onwards, I enjoyed working in the nTrance cafe instead of working in the office. This is one of my favourite working environments at TBF, to be able to work in places the workers feel comfortable. In addition, our boss also allowed us to work from home if we wanted to but I mostly chose to work in the cafe to meet and spend the day working with everyone. Moreover, nTrance cafe's dessert, coffee and food by P'Ploy and P'Kwan are very delicious and affordable. P'Kwan's cake is my favourite as I am a dessert lover.
Being an intern at TBF, I can have a lot of first time experiences. My first experience of practicing how to ride a motorbike happened at Khao Lak because motorbikes are the only vehicle we can conveniently use there, so I have to learn how to ride a motorbike from my friend. It is also my first time staying with a friend and first time travelling in another province with a friend. In 1 month, my friend and I have already explored almost all of the attractions around Khao Lak such as waterfalls, beaches and mountains. Additionally, this is my first time staying far from my family and staying out of my comfort zone as I have never stayed far away from my family since I was young. My first time surfing experience happened at Khao Lak as well for the reason that TBF wants their employees to try surfing. I would like to express my gratitude to Tim for teaching me how to surf and I tried to practice what Tim taught me as much as I can. It is also my first time having a bonfire at the beach. It's very memorable. Lastly, I first tried skateboarding at TBF. I never tried skateboarding before and I got the opportunity to experience it because TBF allows their employees to enjoy skating and even can skate while working in the factory. That's a new working culture that I have never experienced before.
I learned a lot of new knowledge and experiences from TBF such as knowledge about surf related products and skateboard products. I also got experience working with professionals and learned new things from them on how to solve problems and get new ideas on work related. Additionally, I can also use the skills I have learned from college, especially flexibility to adapt it to the professional world. I learned how to work under pressure, learn designing and working with time limits. I love the working environment at TBF. It is more like a family and everyone is open to share their opinions and ideas. 
Finally, I appreciate all the care from everyone and I am always happy to know and build bonds with new lovely people. I experience the love and care from everyone not only in the workplace but also outside the workplace. I got to hang out with everyone and enjoy the weekend. This environment is what I am hoping to be in when I am working. In the workplace, everyone is very hardworking and focused on the work but never forget to enjoy life after work and every weekend. This is where I learned work-life balance. 
I am thankful especially to P' Ploy for being like a mom to take care of us. Furthermore, I am also thankful to Tim, Dylan, Ansgar, P'Pair, P' Yin and P'Sira for being my lovely brother and sister. I am also thankful to P'Nok for being like a father taking me to get a vaccine and worrying about my health and living. Thanks to P'Kwan for the delicious desserts. Thanks to Gwynt for teaching me how to skateboard from the beginning. Lastly, I am thankful to P'Nok and Martin for these invaluable opportunities. I will surely miss everyone and hope to meet everyone again.