SUNOVA // SUNS
DEALER MEETING 2019
Dear Valued Clients/Customers/Team Riders/Partners/Family... ,
As a lot of you may already know we have just completed our 5th Annual Dealer Meeting in Khao Lak, Thailand 7-11th May 2019. With this little wrap-up we want to recap the program of the week, as well as show the new products coming for the following season, and give our partners and the amazing products they offer a little shout-out.
Thank you all so much for coming and see you next year!
Yours truly,
The Board Factory Co., Ltd.
Bert, Martin, Klaus, Nok, Ake, Dylan, Tim, Yin, Nok-Spec, Gui, Nong, Pen, M, Rouven, Sakon, Ake2, Tam, Tom, Pui
What Happened?
A short overview of our planned and unplanned events for this years Dealer Meeting
Day One // Intro
INTRODUCTION DAY
On the first official day of the dealer meeting, the 7th of May, we had our introduction at Zeus restaurant and bar at the Apsara resort. Everyone got together and formally introduced themselves and how they fit into the Sunova/Suns family, from team riders to CEO's and shops/distributors to photographers and family. Everyone got a brief introduction to each other which essentially broke the ice and allowed them to form better relationships over the remainder of the week. After the introduction there was a small number of very brave souls who handled the ridiculously slow transfer to Patong beach to experience all Thailand has to offer. The rest is history, as what happens in Patong stays there.
Day Two // Paddle Trip
EXCURSION DAY
On the Second day of the meeting, the 8th of May, there was a very early start, it seemed especially early for some of the crew that went on the exploration mission to Phuket the night before. The trip started early at 5:30am from the Apsara resort, everyone got in van's organised by transfer Tim. It was approximately a 1 hour drive before everyone arrived at Ban Sam Chong, where they were greeted with long tail boats for the journey in Phang Nga bay. After loading the Paddle Boards onto one of the boats and everything else on the four remaining, the tour into the misty rock formations could begin. Starting from an inland river mouth the boats channeled their way into the bay. Water from all sides, strong rainfall. Unloading the boards on a narrow beach next to a vertical cliff, then going for a paddle around the infamous James Bond island. 
After circling the enormous rock we gathered on the next small shell beach. Some of the brave foiled behind the longtail boats, with foils supplied by axis, trying to stay well clear of the sharp unrestricted prop. The always recurring rainfall, fog and mist gave the whole area a mystical vibe. 
Once the boards and people were loaded, we made our way to a small floating restaurant close to the peer where we initially started from, for an early lunch. On the way back to Khao Lak everyone was catching some Z's in the van, so they were ready to make the most of the array of boards on offer at the memories beach Sunova tent that afternoon.
Day Three // Factory Tour and Meetings
SERIOUS DAY
Once the 3rd day rolled around on the 9th of May, everyone was either super relaxed and ready for a big day of meetings or ridiculously hungover and not ready for life, depending on who they had been associating with over the couple of days previous. We started at 9:00am from the Apsara and arrived at the factory shortly after. The first item on the agenda for the day was a factory tour, with lean management (TPS) systems explained. Following that there were a couple new product releases including bags for the 2-piece race and SUP boards and a brand new never seen before product, a 3-piece foil board with interchangeable noses that changes the application of the board from surf to downwind SUP foil! After that Klaus did a presentation on lean material management systems. That wrapped up the factory presentation for the day and everyone had a two hour intermission before meeting in the Apsara conference room later that afternoon.
Adrian and Evan from Axis foils kicked off the afternoons precessions going through their latest offerings for the following season. Right after our good friend Trent from Moon tours got up and explained his business model and tours he offers, with the possibility to escape to some pretty exotic destinations! After that it was Tino's time to talk, and everyone fell asleep. In all seriousness though we covered a lot of new products and topics. Some interesting partnerships with some big names in the industry such as Sean Poynter and Ian Cairns from Genration. Jim Terrell and QB paddles. Marcus presented his new SUP model the placid and touched on the 3-piece foilboard again. Dylan talked about the new Suns surfboard range and touched on the Sunova Morphlex construction! Sebastian Steudtner and Bert Burger spoke about boards and their goals for the coming season and finally we finished off with some of the latest and greatest inflatable technology ever seen. The meeting concluded at 5pm and it was a rush to get across the river to memories beach bar to abuse the 1 hour open bar from 5:30-6:30pm in that time there would have been around 200 cocktails cleaned up and 2 coconuts for the double N duo, Neil and Noic! By 6:30pm the food was flowing, there was a great assortment. A little later the triple threat, the three amigos were providing entertainment and table dancing clinics for all absolutely free of charge. This is where the night ended for most, and for the rest, well only they know.
Day Four // Outro
CULTURAL DAY
The fourth day May the 10th was a slow start for many following the previous nights antics, especially Marcus's new roommate, he was feeling rather flat. Transfers started leaving the Apsarsa at 10am bound for The Board Factory and a cultural experience that Thai people hold very close to their hearts. A group of Monks came to bless the factory and its occupants, they were chanting praise and good fortune for all that were involved. There was offerings provided to the monks and everyone sat before them and made merit. 
Following the Monk ceremony there was lunch provided and another opportunity to check out all the new products from Sunova/Suns for the coming season! Shortly after everyone was back to the Apsara and Memories bar to either kick back for the afternoon or make the most of the waves on offer. Certain folks also made the most of the alternating happy hour times between Memories bar and the Apsara. There was an Outro in Zeus restaurant at the Apsara resort where Tino and Bert thanked everyone for coming. Bert also got everyone stoked for the surf that was coming the following day. After the official Outro we headed to Martini restaurant for dinner with the whole crew. Early finish for most as they were either going home the next day or getting ready for the swell of the century.
Day Five // Goodbyes
DEPARTURE DAY
The fifth and final day broke it's silence on the 11th of May as the sun slowly crept up over the beautiful backdrop of the Apsara resort, there were many eagerly awaiting vision of what had previously been touted as the swell of the century, unfortunately it had not arrived, and many had to sadly back their bags and make the great pilgrimage back to where they came from.
Videos
Check out some of the work of our talented content creators
What's New?
All the products, technologies and collaborations that joined the SUNOVA family this year
SUNS Surfboards
As some of you may already know, a couple of seasons ago we launched the SUNS brand in SUP. This year we have returned in force with new offerings launching the SUNS Surf range. The idea is still the same, rock solid product, that covers a wide variety of users at an accessible price point. There will be much more information available over the coming weeks so keep an eye out for info packs dropping soon.
Wind Products
Sunova has developed a range of high performance kite and windsurf models over the past few years, these have been relatively underground until now, moving forward these still won't be the most mainstream products we offer, however they are definitely available. Keep an eye on the price lists coming very shortly for model sizes and information. Learn more about the shaper Jonah Lepak here.
There has not been any real technology advance in windsurfing for many years. But the technology Bert invented for surfboards actually works for all the other board sports really well. Watch Bert explain the most important feature it in detail here, or find out even more about our technology here.
Three-Piece Boards
Last year a lot of people's heads were hurting with the introduction of the two-piece boards. To follow the trend of constant evolution this year we showed off the three-piece board concept, starting with the 3-piece foilboard which changes the application from surf to downwind. Also to keep with the general trend of Sunova, you have to wait! These aren't available just yet, however as you all know we do a lot of research and development and over the coming months we would like to diversify this technology into race and surf, allowing you to travel with less boards, but be covered for more situations.
Back to the Two-Piece Page.
Inflatables
There is no point doing something yourself, if there's other people out there who can do it better than you (see partner section below). Our goal has always been to make the best boards possible and focus on that, because if you have vision on too many things at once you lose sight of what's really important. We haven't ever really pursued inflatable technology as there has always been other brands out there that have superior products. However we have landed on top of some really interesting new construction that is going to revolutionise the inflatable market. More information coming soon.
QuickBlade | Sunova 
When you think of high performance SUP paddles you generally think of Quickblade. Jim has been on the forefront of SUP paddles for a number of years with his technology and designs. When the opportunity arose to collaborate on a paddle using recycled and repurposed materials from our production line we jumped at the chance. Quickblade will soon be offering a paddle made from recycled Balsa and other materials from The Board Factory, keep your ears open for further updates. Watch Jim Terrell (owner of Quickblade) and Martin Jandke introduce the latest collaboration between Sunova and QuickBlade at the Japan InterStyle last February. We are working hard to make this available within the next 6 month.
GenRation
At Sunova we are always looking at partnering with the best in there fields, and when you are talking about the SUP N Surf world it's very hard to look past Sean Poynter and Ian "Kanga" Cairns. Ian is one of the originals, pushing the sport of professional surfing to the next level! Sean is no different, a multiple world champion, he is a modern day SUP surfer, pushing the limits of the sport itself. Together these two are an unstoppable team and we are glad to be working with them to launch the GenRation series. There will be a separate GenRation range, that will embody the essence of high performance SUP surfing. These are super high-performance boards and will set the bar on that level new.
Two-Piece Board Bags
It's all well and good to have 2-piece boards, but they don't become much easier to travel with unless you have a board bag that comes in two? The last 12 months we have been working on a range of travel and coffin style covers for our 2-piece boards across the ranges. The coffin style is a single piece that fits both halves of your board on top of each other, with super rigid padding in a square style coffin. The two piece travel bags are individual, these can be used as separate pieces or joined together as one to enable you to transport your board in either configuration.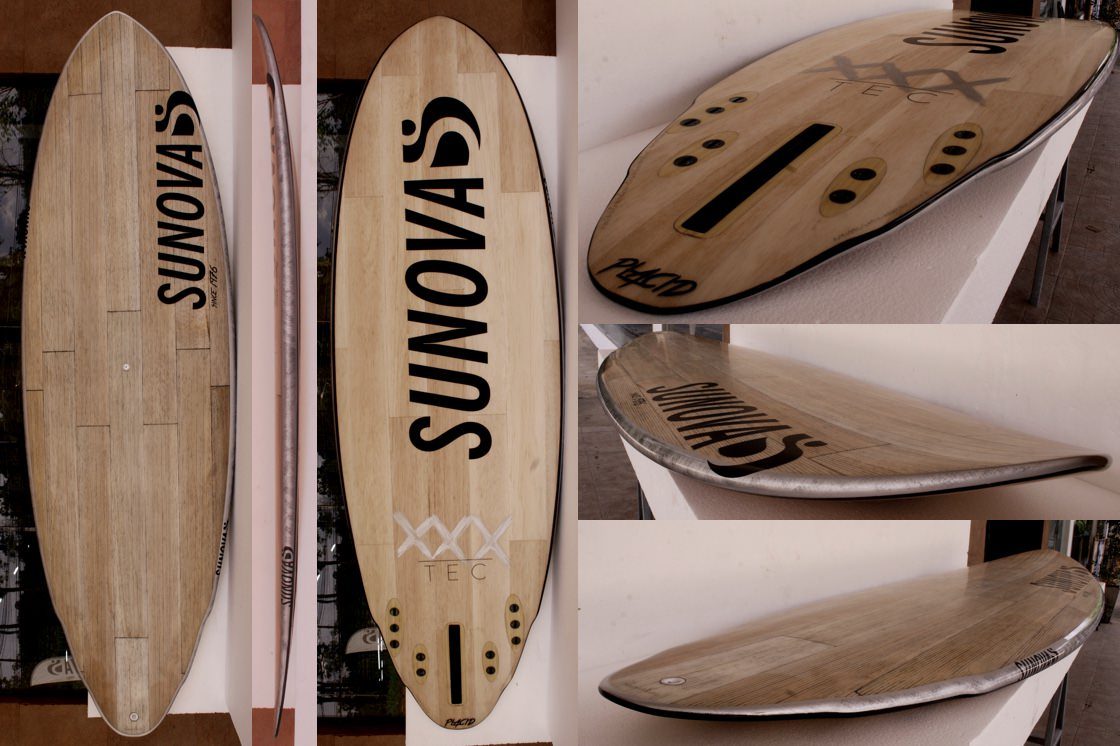 "PLACID"
A working name for a new shape Marcus and James have been working on. Just ready for the Dealer Meeting it was tested by James, Marcus and a few others for the last few month in Margaret River, Sydney, Indonesia and the Maldives. The general opinion between all involved and who saw or rode the board is that it's the coolest looking, best riding board for a great variety of conditions. It just has to be a Model... . 
We will create 5 main sizes to start with and it will be available as of NOW... in the standard SUP range. 
Check it out here:  James on the Placid in Margaret River and Day 3 Maldives | Placid feeling good
Other Stuff
An introduction to WikiNOVA
At Sunova we try to provide as much insight as possible into our construction and production processes. Soon we will be releasing a section on our web page called wikiNOVA. Where you will be able to find everything from manufacturing processes and technology, to repair videos and Bert just generally having a yarn.
The Sunova Repair Guide
Check out the first few videos for WikiNova
PARTNERS
When we partner up with someone it is for life...
AXIS | We believe that AXIS makes some of the worlds best hydrofoils, with constant research and development and a great team around the world to put the products to the test. The fully interchangeable system allows you to travel with ease and be ready for any any situation you may encounter. Check out their products below or in any reputable board store.  
casey. | When our team riders want to push themselves, we want to support that. We have been working closely with James Casey over the past couple of years as an international team rider for Sunova! When he brought up the idea of collaborating on new models and co branding them casey. there was no question about supporting that. check out the Casey webpage here:
Mauka Lodge | Are you looking for a beautiful spot to kick back, with amazing waves, a great Sunova board selection, on the Portuguese coastline with great coaching included? Then you really can't look past Mauka Lodge, check out what these guys do in the link below:
MoonTours | Looking for a getaway to an exotic location, maybe one with amazing uncrowded waves, or even an African safari. Check out what moon tours has to offer. Catering to all at an amazingly extravagant level of class and service, they have something to offer for everyone:
-https://www.moontours.com.au/
GenRation | Collaborating with the best guys in their field is something we love to do here at Sunova, check out what the generation guys have in the pipeline for the near future. check out their camp page here: 
-https://supnsurfretreat.com/ | https://genration.com/
drivethru | Looking for a tropical escape in paradise? With a huge range of Sunova surfboards to choose from. Surf coaching and a hotel set in an amazing beachfront setting. Check out what drive thru has to offer here:
Quickblade | One of the most powerful collaborations to date, check out the amazing range of products QB already has to offer. We are proud to get together and produce a range of balsa blades for you.
FEEDBACK
Tell us what you really think!
To all who attended the Dealer Meeting, please see the attached form in the link below, we are always looking at ways to improve and your feedback will enable us to do so, please take a few minutes out of your day, so we can make next year even better.
>>Feedback Form - Dealer Meeting 2019<<
---
The Summary Video Player
Here is an overview of all Videos