OUR MISSION
To create the best products possible
without compromise to achieve!
PERFORMANCE
DURABILITY
LIGHTEST WEIGHT
OUR PROMISE
Bert Burger started shaping over 30 years ago.
During this time he made a lot of boards and learned many skills,
invented a few cool techs, started one of the biggest Surfboard companies
in the world, and fortunately also just surfed a lot.
It became pretty clear that when making and selling boards to lots of different PEOPLE
with totally different SKILLS trying to ride thousands of different WAVES there had to
be some kind of PROMISE with it.
THIS IS IT
the RIGHT BOARD, for
the RIGHT WAVE, for
the RIGHT CUSTOMER
This simple PROMISE determines a lot of things we do different in this Company.
And while this sounds all pretty nice and easy its a very hard, time consuming thing to guarantee.
So what does it means and what can you expect when you buy a SUNOVA product:
the RIGHT BOARD
This means that you will get the best possible board for your conditions. 
If you don't have that pls contact us and we will make it right.
the RIGHT WAVE
This makes it clear that we all need to realize that all waves are dierent and just like one golf 
club is perfect for one thing it might be totally wrong for another one. But since our boards are made to last, 
we will keep in mind for this purchase already the next one.
the RIGHT CUSTOMER
We deal with every customer personally. 
This is almost crazy in this world, but its part of our promise.
We will get to know you and the boards of our range will in most cases suit you, 
if they do not we will build a fully customized board for you.
OUR TECHNOLOGY
Bert Burger invented the Balsa Flex Tech 
with the parabolic rail, because
HE HAD A MAJOR ISSUE TO SOLVE
The standard PU boards were (are) disposable. 
He could never get more than 3 month out of any board he bought or made.
Of course there were stronger constructions around. 
But messing with the durability issue immediately created 2 more problems with boards:
they became to heavy

- or -


they did not work magic
MAGIC PERFORMANCE IS THE NUMBER #1 PRIORITY
DURABILITY IS KEY
BOARDS MUST BE SUPER LIGHT
SEE BELOW HOW THIS TECHNOLOGY SOLVED ALL THESE GOALS
OUR GUIDELINES
To bring the most VALUE to our customer.
We control our own MANUFACTURING, to PRODUCE better products,
that we DISTRIBUTE to the user in the shortest possible way,
with direct, fast and  uncomplicated SERVICE.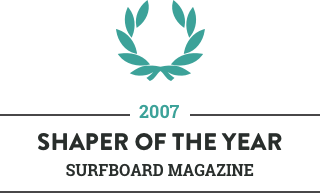 SHAPER OF THE YEAR:
BERT BURGER AND THE RISE OF THE FIREWIRE
JANUARY 23, 2007 BY SURFING MAGAZINE
It's a funny thing, really. Paranoia's practically a way of life out there in Surfboardland. A lot of it is fed by the fearful idea of these Giant Companies coming to Rape Surfing. You know, these big-ass money machine corporations, from Asia or some such place, that're gonna come roaring into town, selling popout kookmobiles left and right and undermining the brave little guy in his nice little factory, who only wants to maintain the Sacred Heritage of boardmaking. Or whatever. Read more at http://www.surfer.com/surfing-...
FEATURED BOARDS
Check out the Boards right below.
Click for a selection of all boards and products we have …
COMING SOON TO A SURFSHOP NEAR YOU
#CHRISTIANFLETCHERSURFBOARDS
THE MOONTAIL
RIDERS | DESIGNERS
They ride what you ride …
OUR PARTNERS
When we partner up with someone, it's for life …