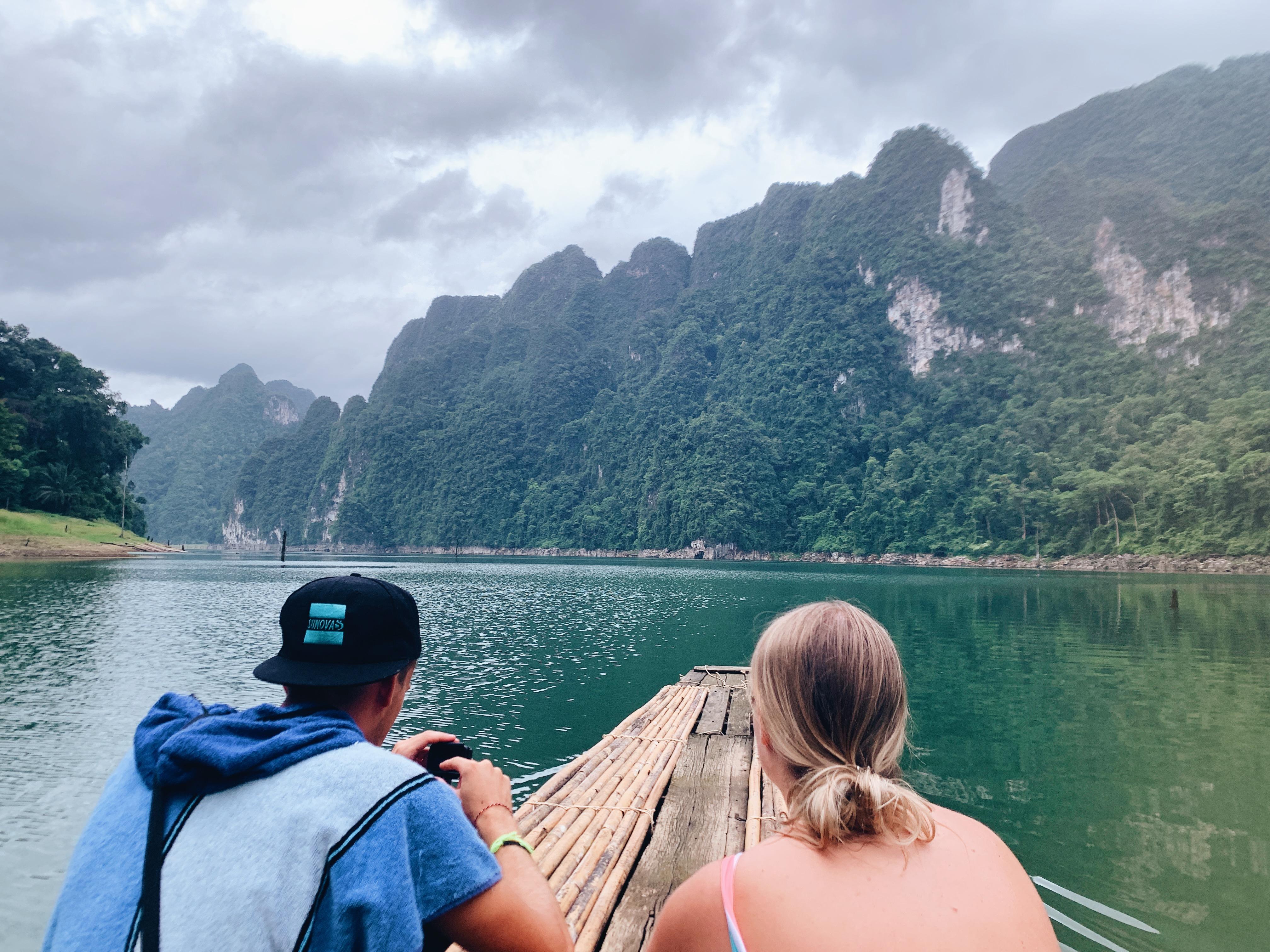 EXPERIENCED BY JASMINE FOU
The Thrill of Seeking New Experiences and Adventures Everyday
Even before arriving at the company, I had already grown somewhat fond of the values that the company held, and the tightly-knit community that the factory provided. Hearing the amazing aspects of the company and the people there prior to arriving in Thailand, I was filled with excitement and eagerness as I got onto my flight.
The moment that I arrived, I was astounded by the beauty and the serenity that surrounded me. While transporting to Khao Lak did take longer due to the layovers and driving, every moment felt worth it as I took in the sights before me. Although it rained for most of my first day in Khao Lak, the beautiful scenery almost made me enjoy the rain, as it made me feel at peace. Better yet, one of my favorite experiences after arriving was the FOOD!! As a strong lover of thai foods, more specifically the tom yum soup, I was beyod ecstatic to actually be eating authentic thai food. As I had expected, I was not disappointed. The food aws amazing, and I was filled with joy as I savored every bite of my meals. 
I only spent one day in Khao Lak until I first visited the factory. My first day at the factory was pretty easy-going, as I was just getting adjusted to the workplace environment. The moment I stepped into the factory, everyone welcomed me with warm smiles and friendly greetings, making my feelings of doubt and anxiety wash away. The other interns/workers even invited me to dinner that night, despite only having known me for less than a day. 
Later that night I got settled into my bungalow, which felt less like a temporary intern house and more liked a luxury hotel. The view outside the bungalow overlooks a lake surrounded by beautiful hues of green, and the bungalow itself was super nice with a variety of different commodities already provided. 
My first night at the bungalow was quite an adventure. Being a city girl from downtown Tokyo, imagine my surprise coming home from dinner and finding what felt like 1000 moths in my room. I was filled with terror and locked myself in the bathroom for an hour, facetiming my friends and panicking about how I was going to get any sleep that night. I finally pulled myself together, however, and was able to kill all of the bugs by myself. While this may seem like a super mundain experience to a majority of people this was one of the first 'adventures' I embarked on while in Khao Lak, as it really made me step out of my comfort zone. By the end of the night, I was filled with adrenaline, and satisfaction for overcoming my fears, and went to sleep soundly.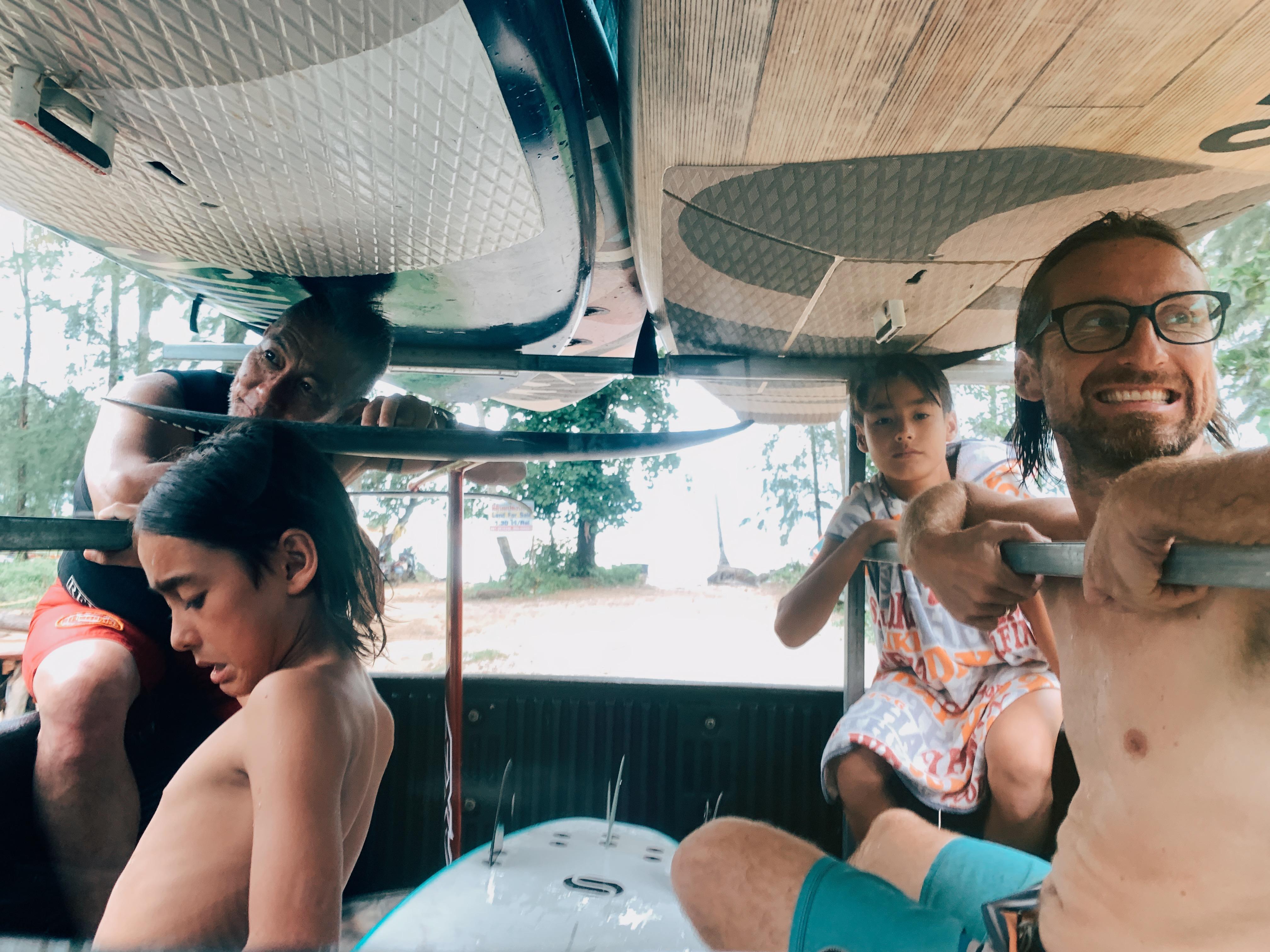 What Does the Typical Day Look Like?
The typical day starts one of two ways. I either sleep in super late and rush to get ready for work, or I eat some fresh fruits and ceral on my terrace with some music. Both ways are pretty nice because of the beautiful view I get to wake up to every morning, but I definitely get to enjoy the view for longer when I wake up earlier. 
When going to the factory, I usually ride behind one of the other interns on the scooter. Before starting to intern here, I was quite nervous about how I would go to and from the factory, but the other interns were super nice and willing to take me with them. Riding a scooter is AMAZING!! Probably one of the most thrilling things I'd ever done in my life, and even throughout my whole month here, riding the motorcycle and feeling the wind on my face as I took in the view has to be one of the best feelings ever. 
Work is typically from 8-5, with out lunch break at 12. I do different things everyday, keeping work exciting for me. The environment at the factory is so friendly and fun, with everyone having the ability to get work done, but also know how to have a good time and enjoy themselves. The board factory team is kind of like a family, and even workers that I don' t know well always greet me with a smile or hello, making me feel super at home. 
After work, my fellow interns and I like to do different things everyday. Sometimes we just lounge around the bungalow and watch some netflix, or other nights we go out to the beach or the night market. Every day is a new adventure and I enjoy every moment of it.
The beach is super beautiful, especially during sunset, and never fails to amaze me. There are two night markets, which operate on alternating days of the week, which are both super cool, with new food to try, and a variety of different shops that pretty much sell anything you need or want. I was amazed by the hustle and bustle of the area, and I have gone several times in my time here.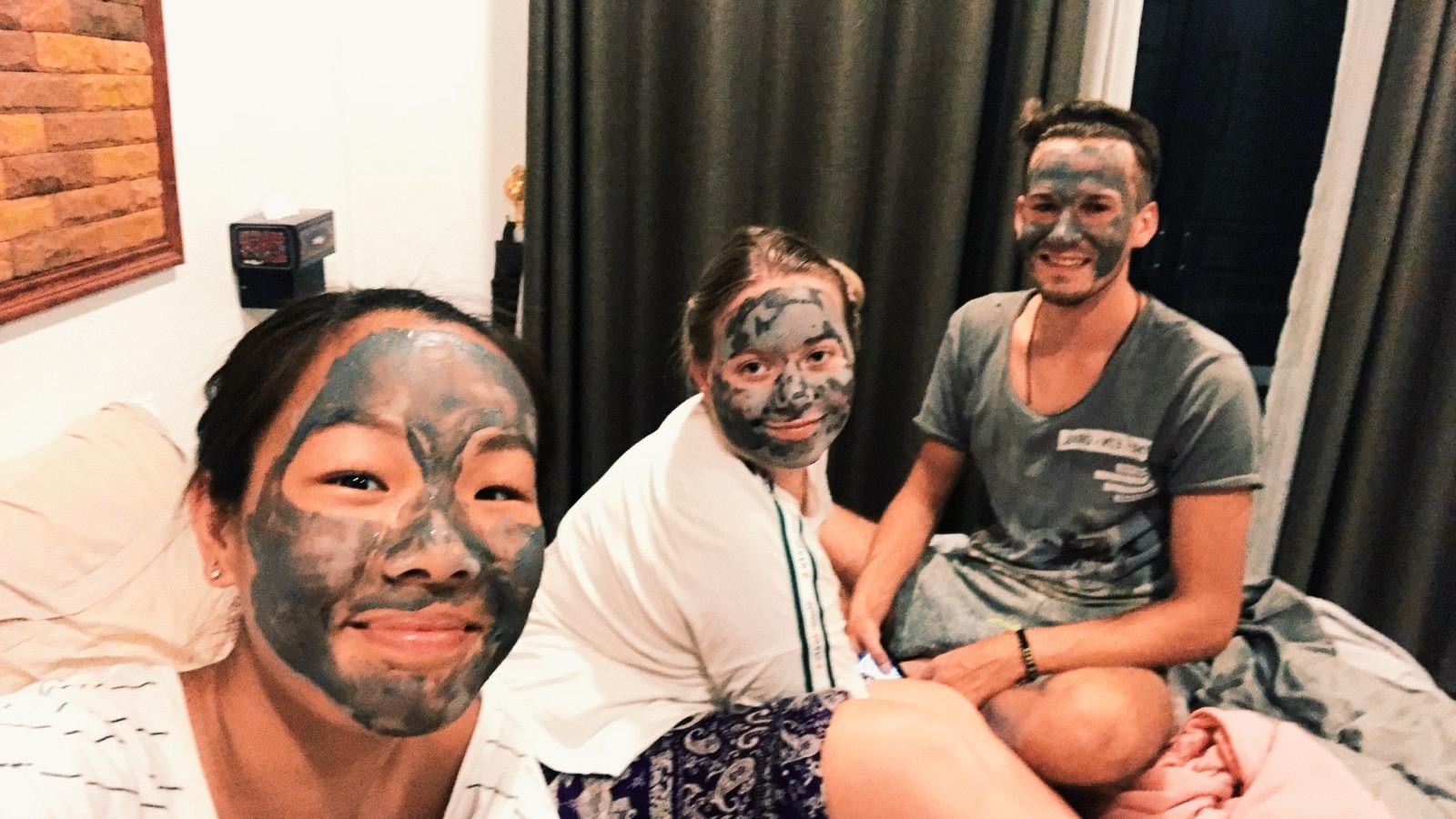 My Trip to Khanom and Khao Sok
On my first weekend during my internship I went to a SUP competition in Khanom with the other interns and workers in the factory. The drive to Khanom was super long, but the loud EDM music and good company kept me up. When we arrived in Khanom, I was surprised when I found out that we hadn't even booked a place to stay yet! Usually not the way I plan out trips, but I loved the 'go-with-the-flow' mentality of the people around me and I really admired how spontaneous and easy-going they all are. During the two nights that we stayed in Khanom we probably spent almost 99% of the time either lounging on the beach or having a 'pool party' which were both super fun. 
On Sunday we drove and took a boat to the floating houses in Khao Sok. I can honestly say, the boat ride over there was the most beautiful thing I had ever seen in my life. I thought that staying at the houses would be somewhat of a challenge because of the lack of internet connection there, but being disconnected from my phone and actually taking in everything that the area had to offer was so new and exciting, and I enjoyed every moment of it.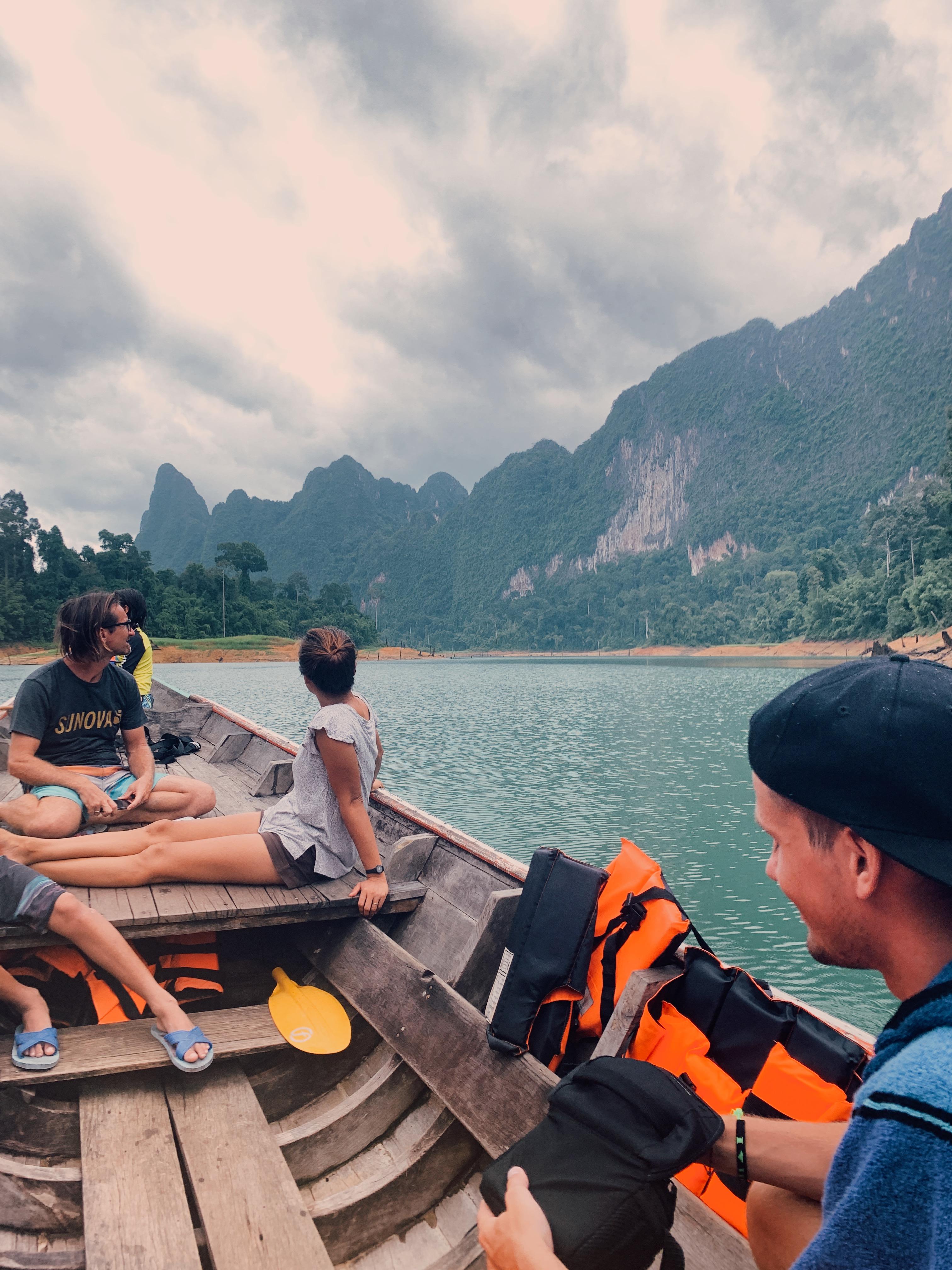 One night staying at the floating houses was a little pricey, but the food and activites made everything worth it. We paddled around the lake on our SUP boards and enjoyed each others' companies during meals. On Monday, we even went to the national park to see the coral caves. The cave was beautiful, and despite the millions of mosquito bites I got during the hike there, it was so worth it. 
The trip ended with a quick stop for some waffles and ice cream, and lots of snoozing (for me at least lol)
Chill Weekend In Khao Lak
My second weekend here was spent lounging around Khao Lak and relaxing after a tiring weekend in Khanom and Khao Sok earlier in the week. Friday night was spent relaxing at the bungalows, playing card games and hanging out with the other interns and Dylan. To be honest, that night was probably one of my favorites during my time here because I definitely got to know everyone so much better, and it really made me feel at home, despite having been away from my actual home for quite some time. 
Saturday was spent more or less the same way, with all of us extremely exhausted and taking periodic naps throughout the day. Later on we went to the White Sand Beach and enjoyed the beautiful weather and the sparkling water. I will never get over how stunning the beach is, and how at peace I feel when looking out into the horizon; it's definitely one of the things I'll miss most about this place when I leave. 
Sunday was a bit more productive, as we went to a waterfall and got some thai BBQ. The weather was not as nice, but the breeze and slight rain was still super refreshing. The waterfall was beautiful, with multiple levels that required lots of climbing. Nevertheless, all the hiking and climbing was worth it because of the breathtaking views that I passed by on the way there. I was a little freaked by the leeches and bugs crawling around, but the positives definitely outweigh the negatives in this case.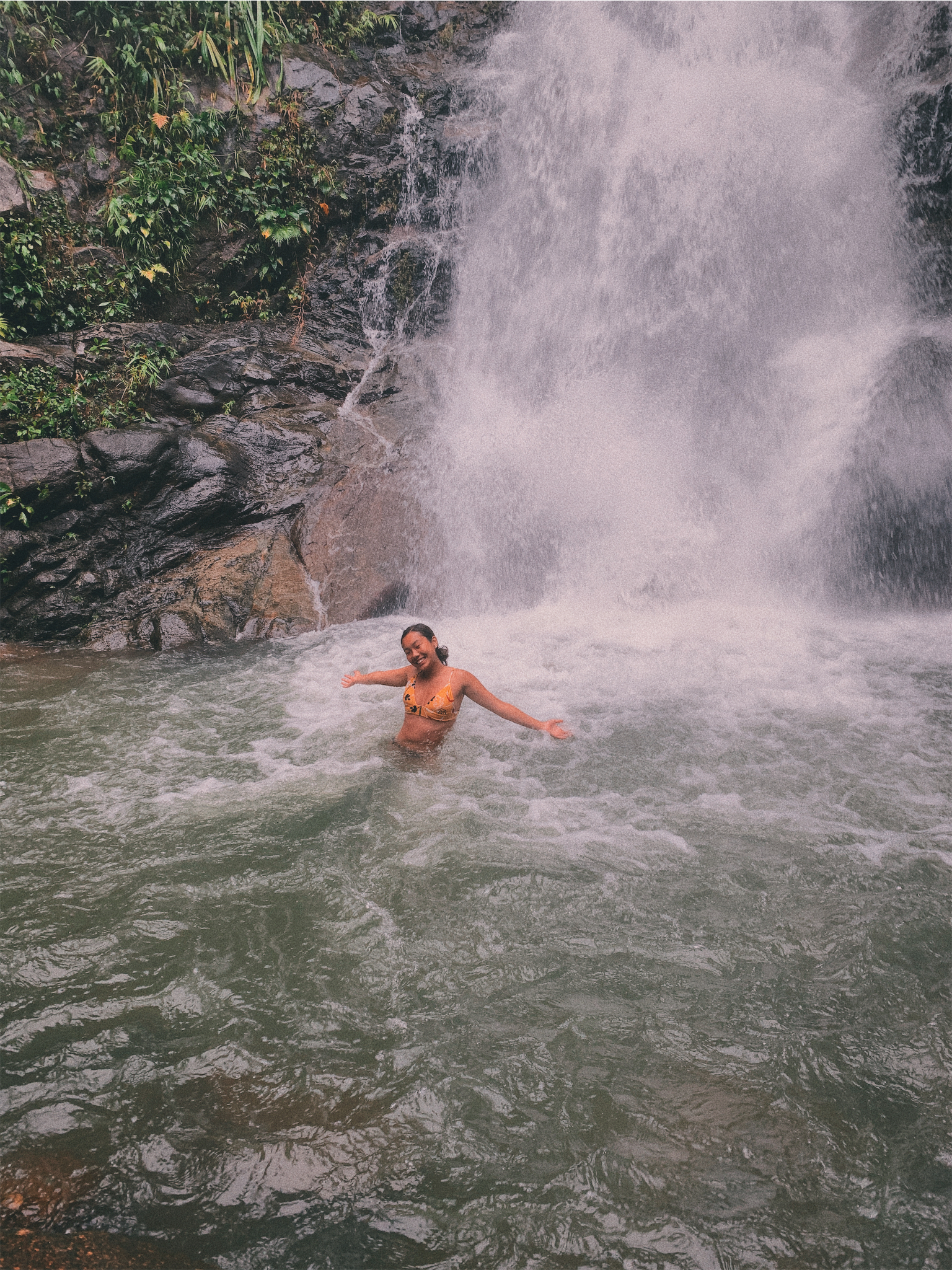 My third weekend I went to Bangkok!!! First off I want to recognize how cheap the flight and accommodation was so if you have the time you should definitely consider going. We left our bungalows early in the morning at 5:30am as our flight was at 8. As soon as we arrived we took a bus to our hotel "D&D Hotel Inn" and lounged around for a little bit before leaving to go to the temple. Wat Pho was beautiful, with a variety of intricate designs and patterns all over the place. It was huge, but my favorite part was definitely the building with the laying Buddha, because of the detailed paintings that engulfed the room. Each painting seemed to depict a story which captivated my attention and kept me looking around for what felt like hours.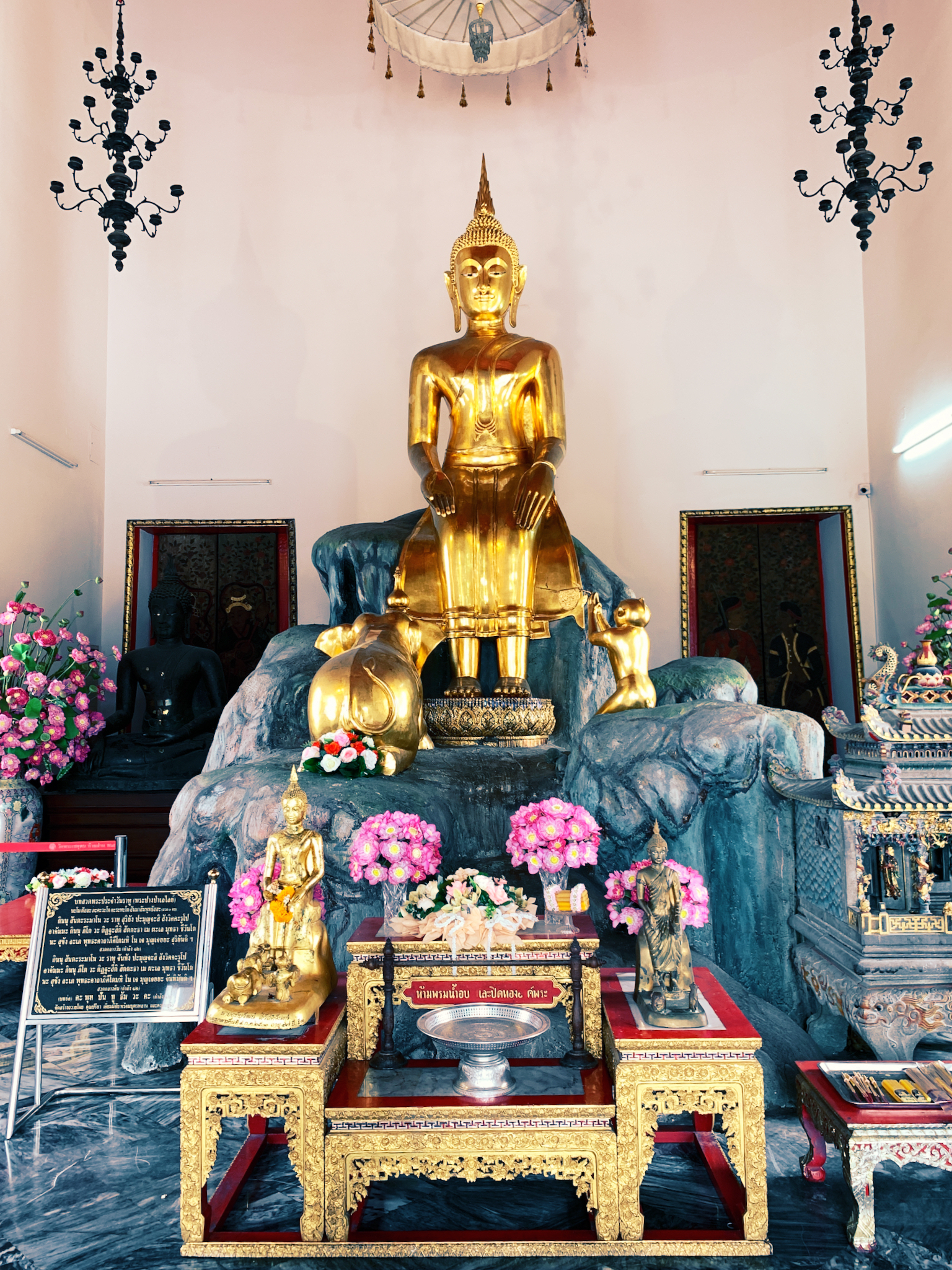 In the evening we went to the Lebua Sky Bar and enjoyed the breathtaking views that Bangkok had to offer. The dress code was super strict and the drinks were quite expensive, but it was definitely worth it for the amazing pictures I was able to take. Definitely a must see if you're going to Bangkok. I think it's safe to say that the rest of the night afterwards is ancient history.....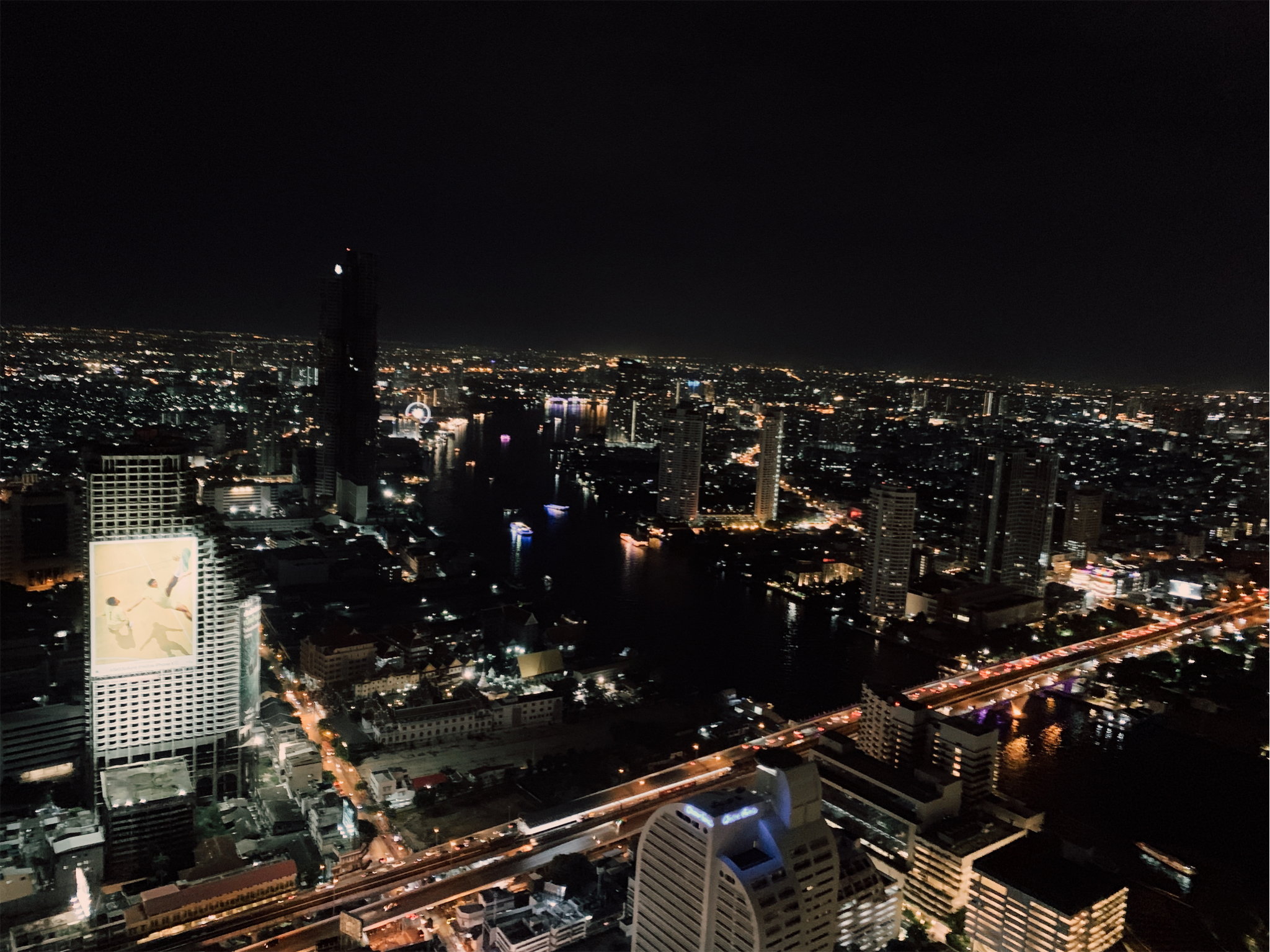 On Saturday we took a boat ride around the river and went to the floating market, as well as the temple 'Wat Arun.' The floating market was our first stop, and I couldn't have been more happy to be there. I was shocked at how big the market was considering it was floating on the river, and the variety of cheap commodities that were available there. I was able to get 3 pairs of earrings for 100 baht, as well as try some Jackfruit (I LOVED it). We got back on the boat after around 30 minutes of walking around the floating market, and enjoyed the bumpy (but beautiful) boat ride again until we arrived at War Arun. I have to say, I was not expecting to enjoy the temple as much as I did. I was already so exhausted from the temple on Friday that I didn't know if I was up for another temple, but Wat Arun completely took me off guard with the difference in architecture and style. The white walls decorated intricately with small fragments of glass and jewels really took my breath away, and differed entirely from the temple that I had went to previously. 
After enjoying the mesmerizing view of the temple, we went back to the hotel and lounged around by the pool after our long and tiring day. By the time we all became prunes from being in the water for too long, the girls decided to go shopping around Khao San Road, where we were staying. The street was so much to take in. There was music coming form every which direction, with what felt like thousands of stores lined up after the other, holding a variety of different things that I wanted to see. I ended up buying one super cute shirt, which I ended up changing into later that night. 
I would say that the night was pretty eventful. We hopped around many different places, enjoying ourselves and dancing around the streets filled with music. Rouven and I even tried eating scorpion!! It wasn't that bad, just super salty and crunchy, but that was quite the experience. After a few hours, we were all super exhausted and passed out in our hotel room (which was conveniently super close by).