EXPERIENCED BY DENISE JANSON
THERE IS NO GROWTH WITHOUT CHANGE
Why going out of your comfort zone is always the best way to grow...
That's me
Hi guys!
My name is Denise, I am 21 years old and from Germany. Doing an internship is a mandatory part of my study program (I'm studying Business Psychology in Mainz by the way) and since I have been aspiring after an international career for a long time, I dreamed from the beginning of my studies of doing my internship abroad. After searching and applying for weeks without any good response, I almost gave up my dream but then I saw the SUNOVA  job ad and couldn't believe my eyes. I applied immediately, and after a short and funny job interview with Martin I got the position.
I am more than just lucky and grateful to be part of such a dope company like SUNOVA, where you will not only work on your professional career but also on your personal development! Of course, I can also not complain about working in Thailand right where other people make vacation. Due to my tight schedule, I'm only here for 2 months but I can already tell you that I wish I could stay longer here in paradise. 
Scroll down if you want to read more about my awesome time here!
Let the adventure begin
My journey to Thailand started by saying goodbye to my family at the airport on Wednesday morning after a long night of packing. Even though it's always kinda sad to leave home I was still super excited and thrilled to finally take off and start my dream internship in Khao Lak. After a 14h hour flight with a stop-over in Doha, I landed safe and sound in Phuket on Thursday morning at 8 am local time. I got picked up by a super nice driver who drove me to the factory where I met Martin and the others for the first time. I only remembered Martin from my interview which I had had in February (it's May now) and he seriously turned out exactly how I  expected him to be: funny, full of power, visionary and chilled but most of all CRAZY (in a good way tho). 
After a quick tour through the factory, the office and the amazing outside area, we ate lunch together and already discussed some of my internship tasks. A little later, Martin showed me the neighborhood and drove me to my bungalow (which probably is the nicest accommodation I've ever stayed at abroad). I had time enough to unpack my stuff, relax and to acclimate myself before watching the breathtaking sunset from my balcony. I obviously didn't have a scooter during this time so luckily Dylan who is the "shit kicker" of SUNOVA (his own words lol) picked me up for dinner.
The first days in my new home
Becoming part of the Sunova family
My first days in paradise were super relaxed but fun! Before I started my first day of work, Nok-Spec picked me up for lunch and showed me a little bit more of Khao Lak since I still didn't have a scooter. Back in the factory, I started working on my first and main task: creating a newsletter strategy. Martin and his wife Nok who also works in the company invited me to come over for dinner at their place but before going there, Nok-spec helped me to get a local sim card for my phone (super cheap here btw). We had a BBQ together and I met Detlef (Martin's dad) and Nalu and Gwynty for the first time (the smartest kids ever). At this point I can already tell you that Martin is probably the coolest boss I could ever ask for and that he and his family are so welcoming, caring and fun that you will for sure spend a lot of time with them! 
This is exactly what happened the next day. Martin, Nok, Dylan Nalu, Gwynty and I went to Phuket together for a surfing festival. It was my first time in Phuket and we had such a fun time! They really made me feel as part of their family and besides of eating Ramen for lunch AND dinner (we were pretty obsessed), we also went shopping, swimming and of course surfing.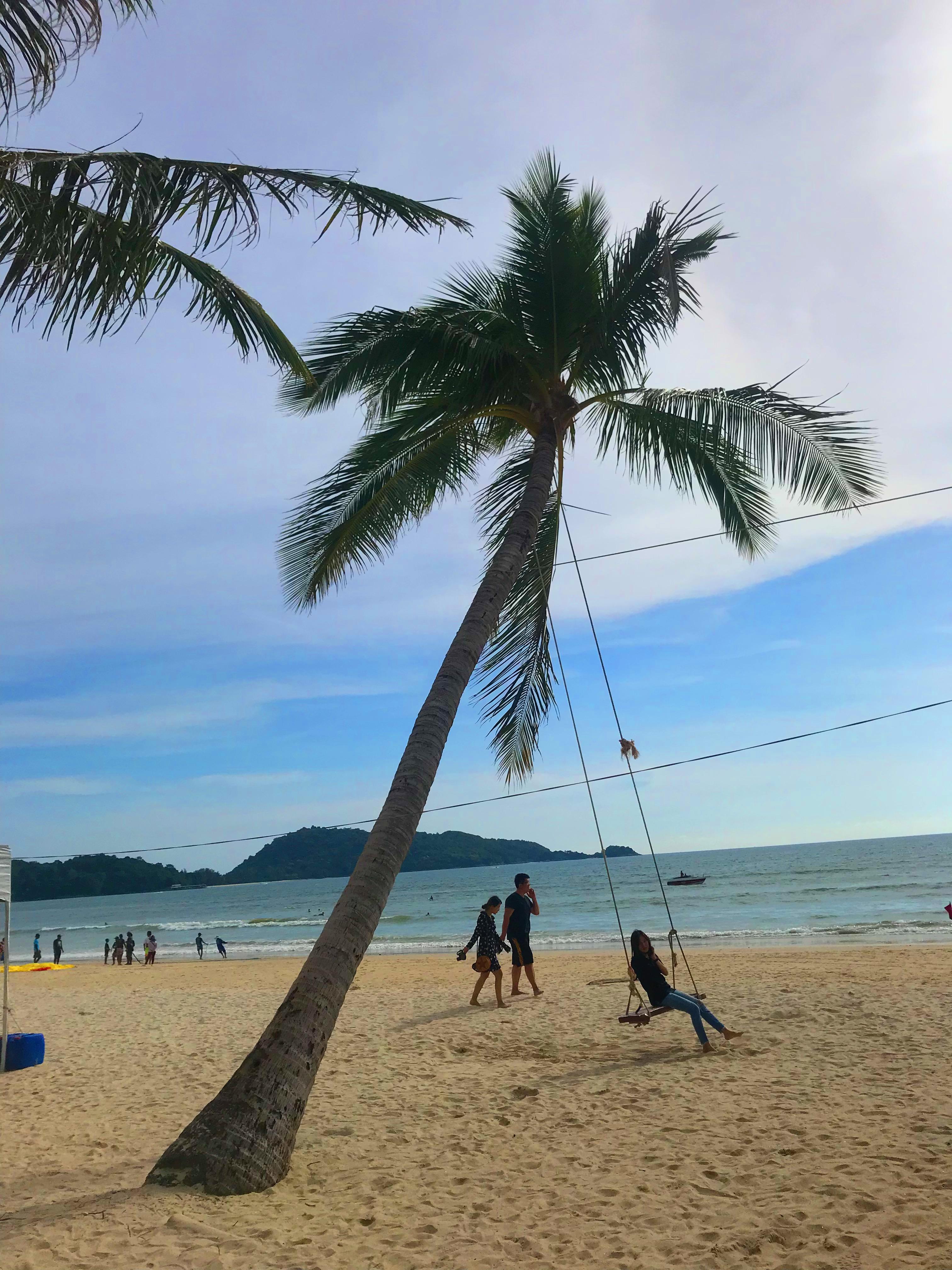 roadtrips, roadtrips, roadtrips
Since we had a public holiday on Monday, Nok-spec and I decided to do a road trip around Khao Lak on Sunday and Monday to enjoy the sunny weather (yes, even during the raining season you can enjoy the weather here). We visited several temples and he explained me many things about the architecture, the Thai culture and Buddhism. We also went hiking to a breathtaking waterfall with a little grot in front and had dinner at the Bang Niang night market. Of course, we didn't miss the sunset and before Nok-spec drove me home, he showed me the best place in town to get fresh and super tasty fruits. I am definitely obsessed with lichees now!
My first week is not even over yet but I can definitely tell you that everyone (especially Martin, his family and of course Nok-spec) are so caring and fun that they made it extremely hard for me to feel homesick or uncomfortable during my first days. They already have a special place in my heart and I'm more than grateful to be here.
How is my daily life here?
A usual workday
I usually start working between 8:30 and 9:00 am (honestly depending on how much time I need in the morning haha). Our bungalow is super close to the factory and going there with the scooter only takes about 5 minutes (or 1 if you are as quick as Rouven haha). The first thing I learned here is that you must put off your shoes before entering a house, which means that everyone is barefoot in the factory and I think that's amazing! Generally, the atmosphere is very easygoing. Everyone is always in a good mood, makes jokes and enjoys being here. I usually sit next to Martin, Pen and Nong in the office but sometimes, if I wanna enjoy the weather, I also work in the outside area. 
At 12.00pm everybody comes together to eat lunch outside and believe me, Pad Ka Prao is my life now! We have a litte restaurant behind our office where 3 wonderful ladies cook our food daily and it is sooooo tasty. Depending on what you order one meal usually costs between 20 and 30 Baht which is crazy since it is less than 1 Euro and the best thing is (at least for me) they also have Tofu here!
What I love about working with Martin is that he totally trusts you and gives you enough space to work independently but also always has a friendly ear for you if you need feedback (at least if you annoy him enough haha!). I usually go home between 5:00 and 6:30pm depending on how much work I have to do and if I have dinner here. I know it sounds long but believe me time flies so quickly here that it doesn't really feel like working but rather hanging out with your friends and doing what you love (at least for me since I love everything Online Marketing related).
After work and free time
During rainy season you can never really know how the weather will be tomorrow or even the next minute. However, so far I have been pretty lucky since it mostly has rained during the night or when I'm at work anyway. After finishing work, me and the other interns go out and do different things. Sometimes we get a massage at the place next to our house or we go to the beach to get tanned, relax or enjoy the waves. There are several beaches nearby but we mostly go to the Memories Bar or to White Sand Beach. If it is not too cloudy, we watch the sunset together and have dinner at different restaurants around our neighborhood. We often go the night market (there are 2 different ones close to where we live) or have some drinks at the Gecko bar. Since it is low season during the summer months, many restaurants and shops are closed or close sooner but for me there are still enough spots to enjoy.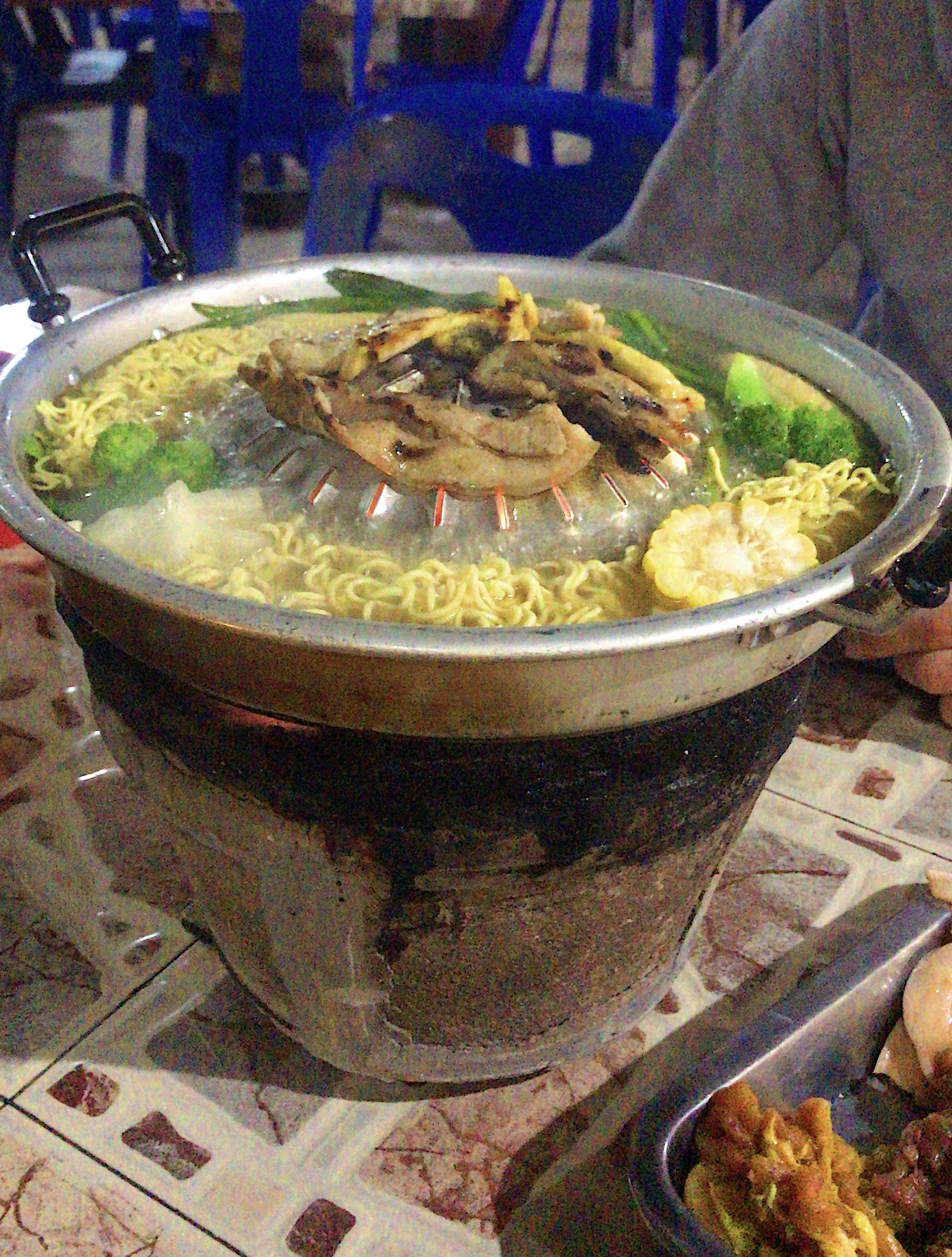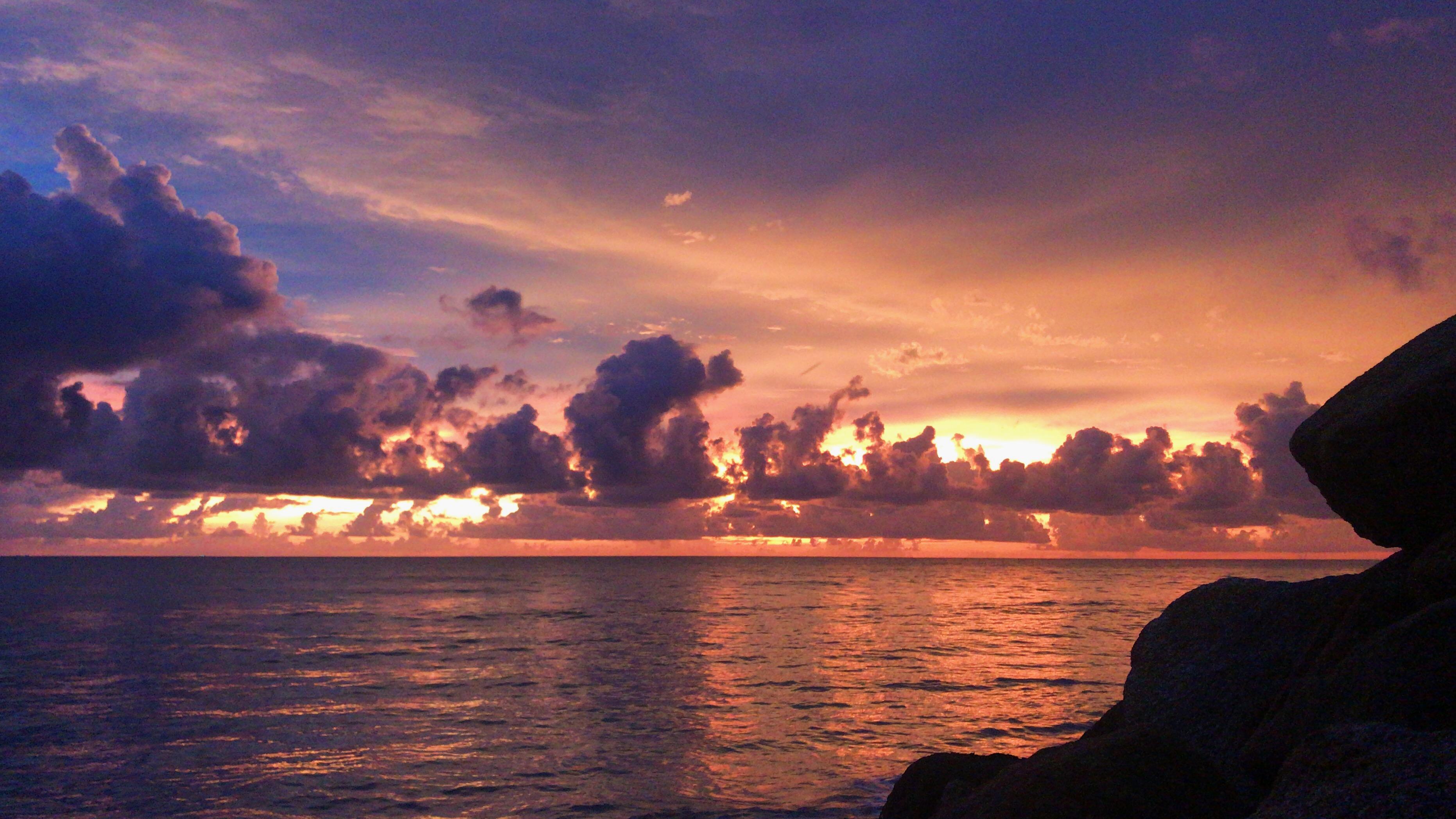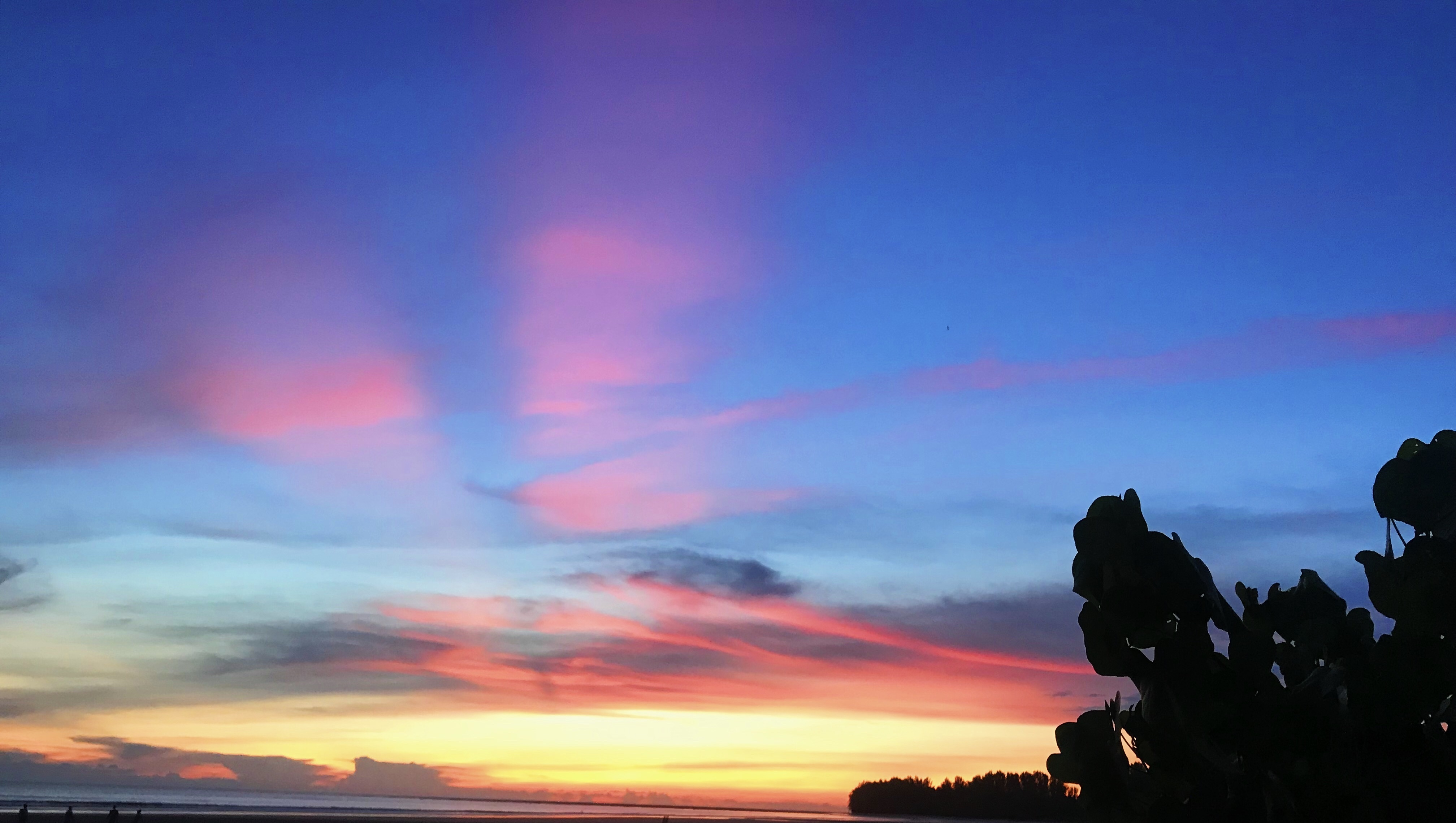 Boards will become your new best friends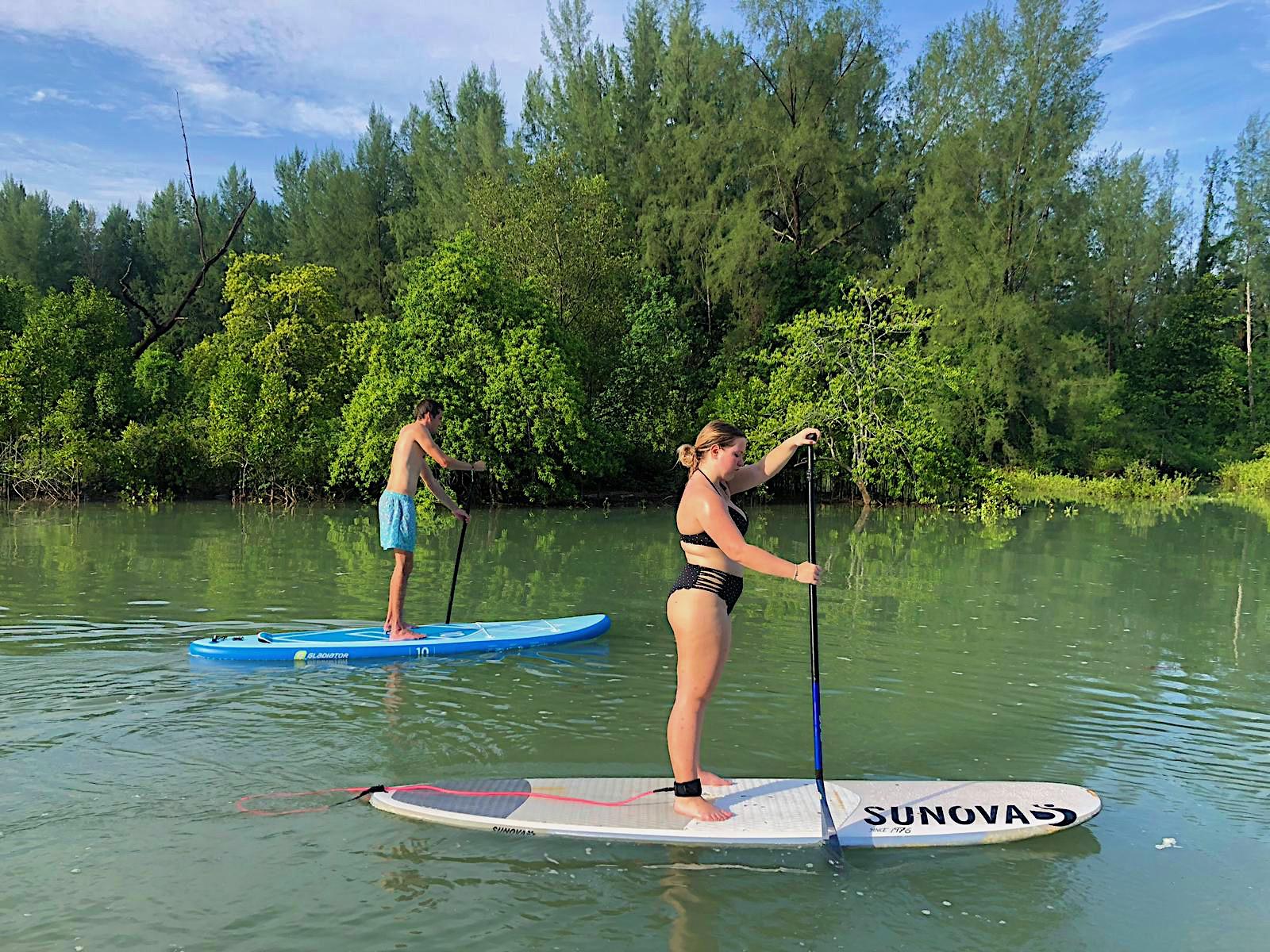 My love for stand-up paddling
As I already said above, I spend a lot of with my boss, his family and Dylan in my free time but also with Rouven and Jasmine (the other interns). At this day, we all decided to go stand up paddling together in the morning before work. We got up at 6:00 am, drove with our scooter to the beach and prepared our SUP boards. It was my first time standing on a SUP but it was such an exciting and fun experience and I'm already totally obsessed with it!
Paddling down the river next to the Memories Bar while catching the first sunbeams of the day and enjoying the pure nature is really one of the best things to do before work! After the session, Rouven, Jasmine and I went swimming in the ocean before going back to our bungalow to get ready for work. Can't wait to do it again.
Weekends are for roadtrips! 
Heading to Khanom
Last weekend, we (Dylan, Rouven, Jasmine and I) did a road trip together to Khanom, a town which is located on the East coast of Thailand. We started our trip on Friday afternoon after work without knowing where we would stay and sleep. Our main reason for this trip was to support our Co-workers on the SUP race that SUNOVA among others sponsored, but obviously also to have a fun time together . Luckily, Dylan has his own car and also usually drives not that bad (at least with some or rather many roadies). 
On our way to Khanom, we stopped at a platform with the most breathtaking view I have ever come across here in Thailand. After 4 hours of singing and making fun of each other, we finally reached the town which is known for pink dolphins (unfortunately, we didn't see any). We caught up with the other guys from the company to have dinner together and to figure out where we would stay. Fortunately, we found a super cheap hotel with a pool and spent the rest of the night together drinking and enjoying the water (wine coolers for life haha). 
The SUNOVA family
On Saturday, we all went to the beach together to watch the SUP race and support our team riders. Rouven and Dylan also participated but I guess the nighties were not the best idea... right Dylan? Jasmine and I enjoyed our day at the beach with little tanning sessions, swimming and we got the best beach massage ever! We also went stand-up paddling in the ocean for the first time and  figured out how to balance on waves.  We all ate lunch together in a little restaurant right next to the beach and had a really  good time. Later that day, Martin and his family also arrived in Khanom and we all joined a huge get together BBQ at the beach before ending the day with a little pool party. I am seriously so grateful to have found so cool people to hang around with and I am excited to make more memories with them.
Our Khao Sok trip
I already told you, Martin is the coolest boss you could ever ask for and therefore, instead of driving back to Khao Lak on Sunday to be ready for work on Monday, we decided to go to Khao Sok (a national park)  instead and stayed there for one night. No joke, this was probably one of the coolest things I have ever done in my life! After driving through the park we got picked up by a boat and enjoyed an one hour trip on the Khao Sok lake. The scenery was breathtaking and even the rain couldn't stop us gazing at the beautiful cliffs and nature. The next stop was our hotel and it totally blew my mind. It was located right in the middle of the lake (so you could only reach it with a boat) and each of us shared a little wooden house. We had no service or internet connection during our stay and I honestly enjoyed this fact so much. 
We spend the rest of our day with swimming and  exploring our neighborhood with our stand up paddles. For dinner, we enjoyed super tasty Thai dishes and played some games after while listening to Jasmine's music. Unfortunately not everyone of us understood the game "never have I ever"... right Rouven? But that made the night even more fun! After a late night canoe session we went to sleep since we had planned exciting things for Monday.
Adventure time
Since we basically only stayed there for 24 hours, we had decided to wake up pretty early for a morning swim and a paddling session before having breakfast together. Luckily, the weather was good and we started getting ready for our trip to a dripstone cave close to our hotel. In order to get there we needed to hike through the rainforest first and reached after approximately 40min another smaller lake. The hiking part was really fun but also not that easy since the ground was extremely slippery and stony (not to myself: don't go hiking with flip flops!). The cave was located on the other side of the lake but a boat was already waiting for us. We needed to a hike or rather climb a few meters in order to reach the entrance in the middle of the cliff. The inside of the cave was so breathtaking and our guide explained us something about the process and the history. Besides of seeing bats for the first time I loved the different shapes of the stones and enjoyed the time we spend inside. The whole trip was a super fun and interesting experience and before driving back to Khao Lak we enjoyed our super yummy lunch together and of course went swimming again.
So happy to be back !
Bangkok is definitely one of my favorite cities of all time and therefore, I was even more exited to finally go back there!              Jasmine, Dylan, Marie, Rouven, his mom and I started our trip on Friday early in the morning. Our taxi driver, btw the same that had drove me to the factory on my first day in Thailand, picked us up from the factory at 5.30 am and brought us safe and sound to Phuket airport. Our flight was at 8 am and it only took us around 1 hour to get to Bangkok. Luckily, we landed at Don Mueang International Airport (which is the closest to the city) and shared a cap to get to our hotel which  was right located on Khao San road (the best place for parties).
Since the most famous temples of Bangkok were pretty close to our hotel, we decided to explore our neighborhood and visit some of them at our first day. Even though I already had been pretty used to the hot and also humid weather in Thailand, Bangkok is a whole new level! It is definitely more humid there and since its a city, there is also less wind. We decided to go to  What Po and just drifted around while gazing at the beautiful architecture with all its little details. To our surprise, there was a festival during the day therefore, we decided to stay there for the rest of the day to enjoy the free food, the people and some ceremonies.