BEAU BLAKE
Australian Waterman | Kite | Surf | Foil ...
Introduction
A passionate kiteboarder from the Sunshine Coast in Queensland Australia, Beau got into water sports at a very young age. Originating as a wakeboarder behind the family Malibu, he quickly picked up and got hooked on kiteboarding and has never looked back.
Beau takes pride in the diversity of his kiteboarding, unlike most kiteboarder's riding at a competitive level, he has not limited himself to any one particular discipline of the sport. Instead he train's and competes strapless surf style as well as wake/freestyle. He also enjoy's foiling on lighter days and freeriding on the windier days.
Beau is the junior editor for Kite Magazine and SUP Magazine in Australia. Video editing is another one of his passions. Travel, competing, writing for the magazines and doing video edits is what makes me tick, primarily around kiteboarding but including my other passions of surfing and wakeboarding.
100 Questions
DATE OF BIRTH:
31/12/99
HOMESPOT:
Sunshine Coast on Australia's East Coast
DISCIPLINE:
Kitesurf, Kiteboard, Foil, Surf, Wakeboard
BOARD SETUP:
5'6 Boss
5'2 Tomohawk
5'6 Nitro
WHY SUNOVA…
Kitesurfing hammers your boards so the Sunova super strong yet light weight construction is perfect. Great shapes and the ability to get customs if needed. The best Kite specific boards on the market without a doubt.
THE BEST COMPETITION RANKING YOU GOT SO FAR?
I have podium finished in pretty much every event I have entered over both freestyle and surf style competition.
YOUR FAVORITE CONTEST AND WHY?
My Favourite kite contest is Merimbula Classic held each November in Australia. It is a four day jam style event and also has SUP and windsurfing. Not the most serious event but absolutely the most fun.
YOUR FAVORITE KITING ADVENTURE SO FAR?
This is tricky one, I love Fiji for Kiting and have been to the far north, Namoutu and the Coral Coast, and scored each time. I also love Capetown for the wind strength and huge kite scene.
THE KITE TRIP YOU MUST DO BEFORE YOU WIPE OUT FOREVER?
Although I have travelled heaps, Gnarloo in Western Australia is top of my Bucket list.
IF YOU COULD DO ANYTHING AND HAD UNLIMITED MONEY WOULD YOU DO ANYTHING GOOD?
I would try to put together a complete and prefessional kite coaching program, unlike pretty much any other sport once you have had your initial learn to kite lessons there is no coaching available. This is slowing the progression of the sport due to learning through trail, error and pain. 
CAREER GOAL: 
 Travel, Film and Coach.
BEST DAY POSSIBLE: 
Surf in the morning, kite in the Arvo – hang on, that's nearly every day!
PREFERRED SUNOVA KITEBOARD: 
5'2 Tomohawk
SOMETHING YOU DIDN'T KNOW: 
I am a video and editing nerd.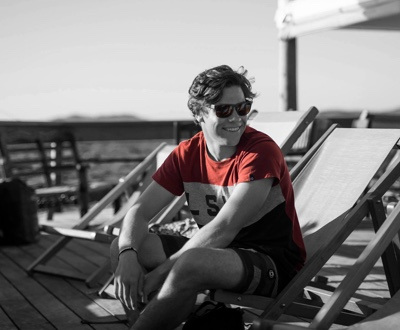 VIDEO GALLERY
Few cool clips about Henry
The Gallery
Beau's photos