EXPERIENCED BY MARIE ANNIKA HOFFMANN
6 MONTHS IN PARADISE
Maybe the best thing I´ve done so far..
Hi, I´m Marie.

I´m fresh out of school and interning at Sunova for 4 months in the design and filming project.  (Edit: I planned on staying 4 months but extended for 2 extra months because it´s just too cool here not to stay longer)
On my flight to Phuket I didnt really know what to expect and was wondering how my life will look like the next 4 months. All I knew was, that I was excited to work for a company with the same values as me and finally do something useful and meaningful, as I had been in school for my whole life.
My first few days were wonderful. I dont think I´ve ever met so many welcoming and open people at once. Everyone – and I mean everyone – here is not just friendly, but genuinely nice and caring. Even though I can get overwhelmed sometimes by too much social interaction I felt at ease.
Especially Nok took care of me, helped me find a Scooter, get a SIM card and so on. My first week was great, I was able to settle in and always had nice company around. 
Trip to Bangkok
On my first day in Thailand the other interns asked if I wanted to join them and go to Bangkok – of course I said yes. We stayed at the "D&D Inn" on Khao San Road which is pretty nice and very cheap ! One of my favorite memories from Bangkok is the Wat Pho temple, which was so beautiful. Also the boat tour we did to the floating market, where we saw alligators and tried new food. And the Lebua sky bar - the fancy bar and the great view you get is definitely worth the expensive drinks !
Life in Khao Lak
Even though Bangkok was very fun I am glad to be back in Khao Lak. Especially now that I´ve finally moved into my bungalow I feel very at home here.
This weekend was my first time wakeboarding and surfing. Rouven was a great surfing instructor and it was soo much fun. We also went to Phuket and saw the Big Buddha during sunset.
Occasionally it hits me and I think about how lucky I am. 
Holidays
A friend I made in Bangkok – Demi - came to visit me this week. We went surfing together and this time I was the surfing instructor :D Surfing into the sunset is something very beautiful I didnt know I would ever do. I am so grateful for always having boards (the best boards obviously, because they´re sunova boards) on the beach, that we can use.
I didn´t have work from Saturday to Wednesday, because of Asalha Puja, which is a buddhist festival celebrated in July on the full moon of the month, and Beginning of Vassa (beginning of a three month annual rain retreat, where monks don´t go on pilgrimages and intensify meditation). Demi and I took our Scooters and started driving on Saturday. We went to Railay and Koh Lanta and had a great time exploring and meeting new interesting people. 
Everyday life in paradise
While the others went partying in Patong I enjoyed some alone time at home and went Stand Up Paddling with Martin and his family. I was stunned by the beauty and peacefulness of paddling through the river. On my way back I fell into oysters and had to go to the hospital to get stitches. So always wear shoes when Stand Up Paddling ! :D Martin was with me though and comforted me. Thank you Martin!

I love chill weekends in Khao Lak. I couldn´t do much with my foot, but we still went to the beach, I studied thai, we bought some crazy colorful shirts, made friends with a boba lady and a dog at a beach we called Thomas, Katharina colored the tips of my hair and we all in all had a fun time. 
Weekend in Phuket, Fun in Kata, new Intern and saying Goodbye to Luven
Wow it´s already been a month and a lot has happened.
Rouven, Kathi and I spent a weekend in Phuket shopping, exploring, being posh and living our best life.
We also went to a turtle nursery near Khao Lak, where we could even feed and hold them ! I didn´t know I liked turtles that much, but they´re so cute and friendly.
One weekend we had the best waves ever and were surfing all day ! So many people were on the water and we had so much fun (even though I got costochondritis, which apparently can happen if you surf too much) ! It´s so cool to just be able to surf whenever you want and keep improving and learning.
On August 24 we went to the Kata Beach Surf Festival. It was my first proper Surf Contest and I filmed a lot for my video project. On our way to Kata we picked up a new intern from the airport – Julian. Rouven attended the competition with his very own board and caught some pretty good waves. The conditions were hard because of the wind, but that didn´t harm the happy atmosphere. Katharina helped me filming and we got to know so many amazing people !
The next weekend we rented a car and drove Rouven to the airport and said goodbye, which was very sad for everyone.. but at least we had a siiick time, like Rouven would say now. 

September Recap
This month my parents came to visit ! They stayed at the Apsara. I was pretty busy when they were here but we still had enough time to do stuff. 
Short after I went to Malaysia to get a new Visa. Anong was so nice to organise everything for me ! I even had some time to explore Penang, which is so different to what I've seen so far in Thailand !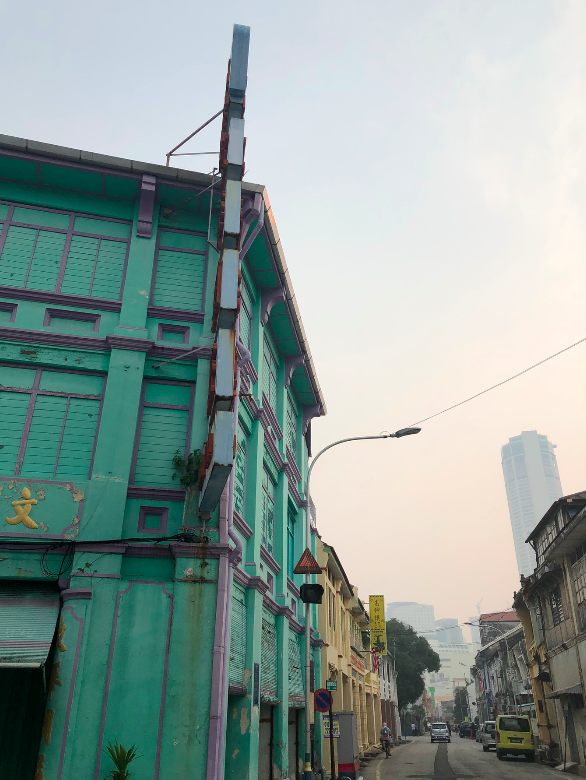 One weekend there was a festival at memories beach, which was all about keeping our oceans clean and producing less waste. I met so many cool people there, learned how to write my name in chinese and made my very own decoration with plastic found on the beach, filmed a little and had a great time.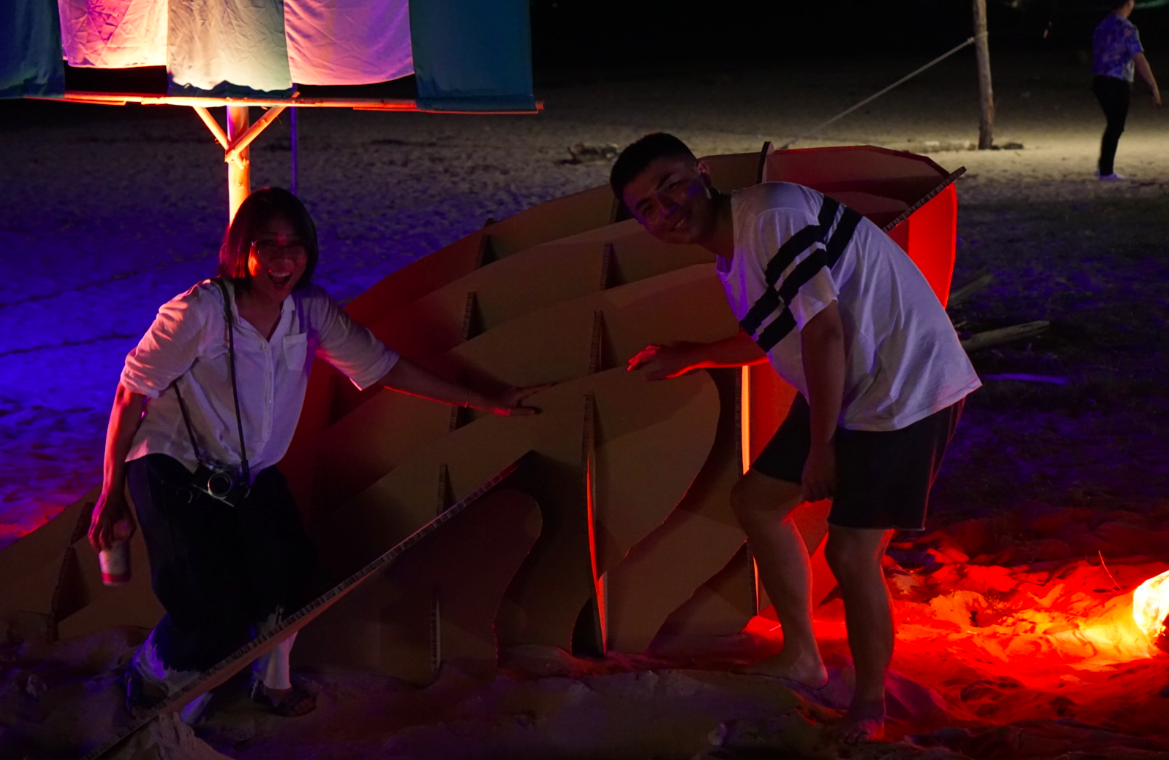 We also had our very first Foilcamp, where I was filming every day. Hinako did a great job at organising everything and James Casey came to teach.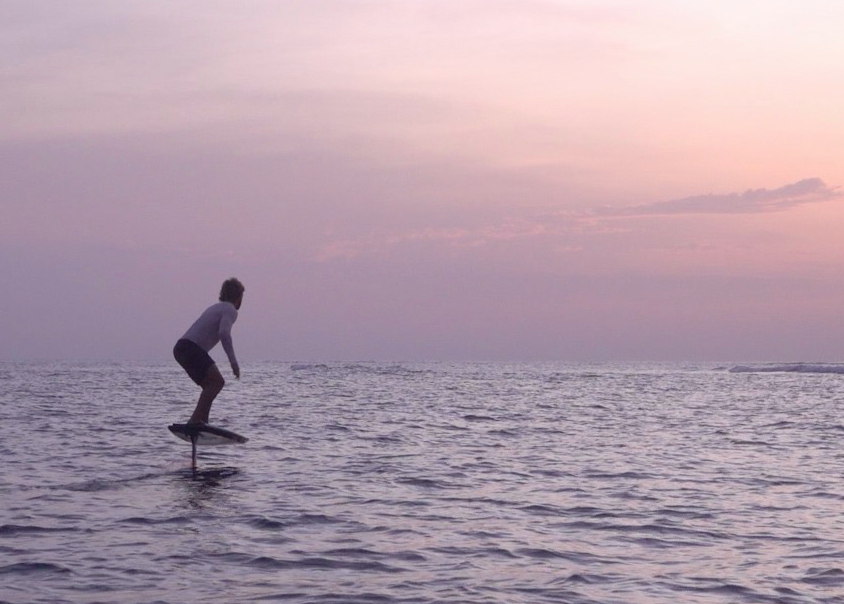 At the end of this month 3 new interns arrived ! Two of them we picked up at the airport and went to the Samet Nangshe Viewpoint. Soo beautiful ! 
One weekend Julian and I discovered a bakery and had pretzels for breakfast ! Wow who knew you could have german breakfast in Khao Lak.. After that we checked out all the temples here. 
Unfortunately we had an accident on our way back and both ended up in the hospital with broken bones. This is something that can happen here. I'm not telling this to scare you though, but to show that even something stupid like that is not that bad when you're at Sunova and have all those wonderful people around. You may be far from family and home friends, but Julian and I ALWAYS had company. Even in the hospital in Phuket there was always either Anong or Nok sleeping in my room, we had people visiting us every day, they helped us with our insurance and so on. I'm so happy that even though it was a hard time for me, everyone around me made it so much easier. From the moment I woke up from the accident I (slightly panicked :D, but) felt save. Almost everyone from the office came to see us when they heard about the accident. I'm very thankful to have such loving and caring people around me. 
Also if you're worried about health and hospitals in Thailand - don't be. I had multiple experiences with doctors and hospitals here and I'm amazed by how nice the hospitals and how caring the people there are. They always try to make you feel as comfortable as possible and the quality of their service is definitely not worse than in european countries. As long as you have an international insurance you´re good. Even though most interns thankfully don´t even make use of it :)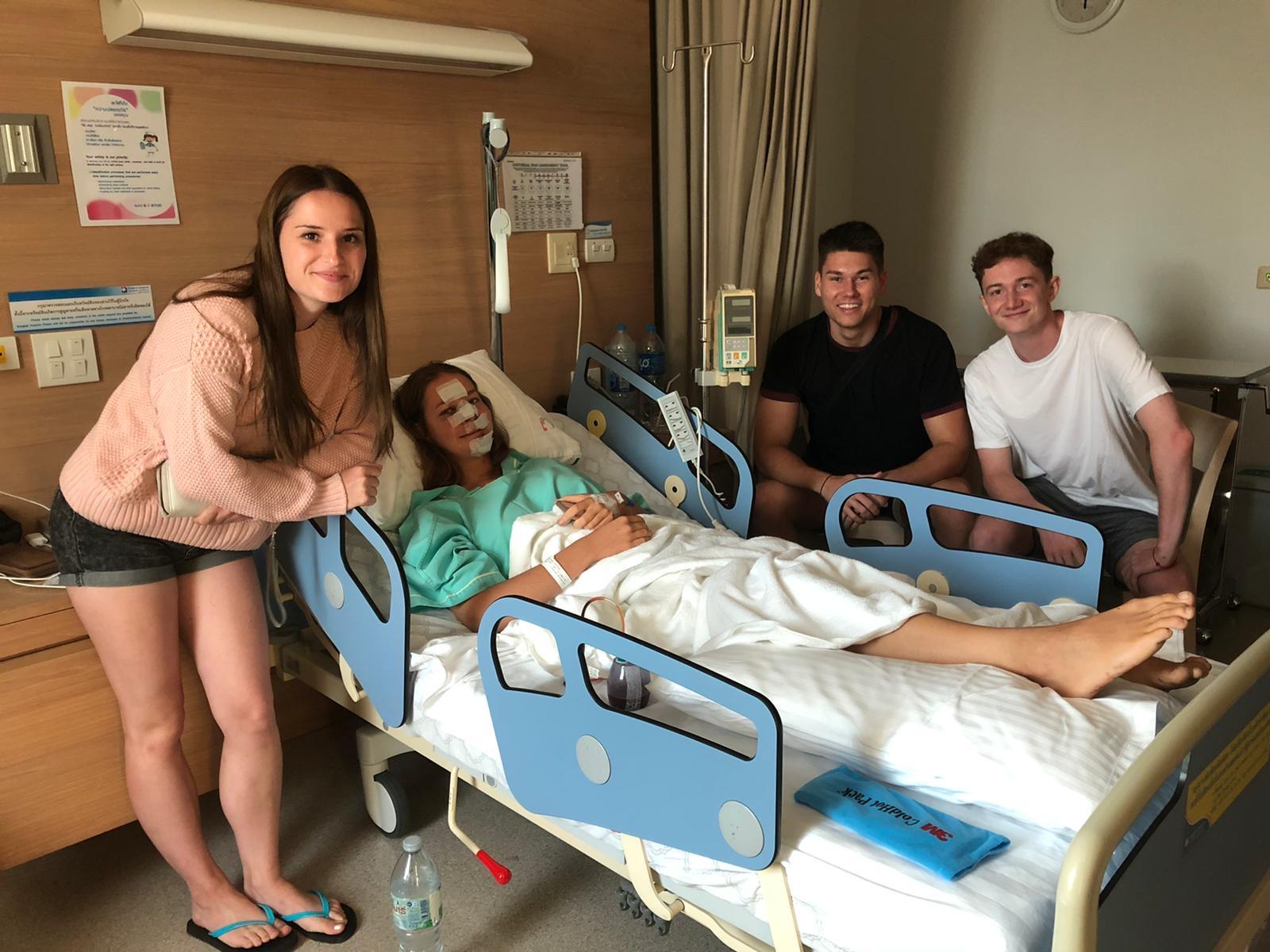 A friend from Germany came to visit for my last month in Thailand !! 
On her first weekend Elina, Rosalie and me rented a car. We had breakfast in Khao Lak and went to Phang-nga. There we saw so many cool places. In the afternoon we drove to Krabi and went to the Tiger Cave, which is a temple on top of a hill. We had to climb up 1236 stairs, which was challenging, but the view was soooo beautiful. On top of the temple it was calm and the mountains with the sunset were very peaceful. Also the people we met on our way up (and down) were so nice and motivating when they saw my crutches ! :)

The next day we woke up early to go to the Andaman Viewpoint in Khao Lak and then go to the morning market. I bought a hair clip, which makes me feel like a thai girl now. After a loong nap we went to Takua Pa in the evening, where we visited the tsunami memorial and the Sunday market. 
Nok often drives me home (since I can´t drive the scooter anymore). This time we went to see the sunset at Pakarang. I´ll miss having summer sunsets every day.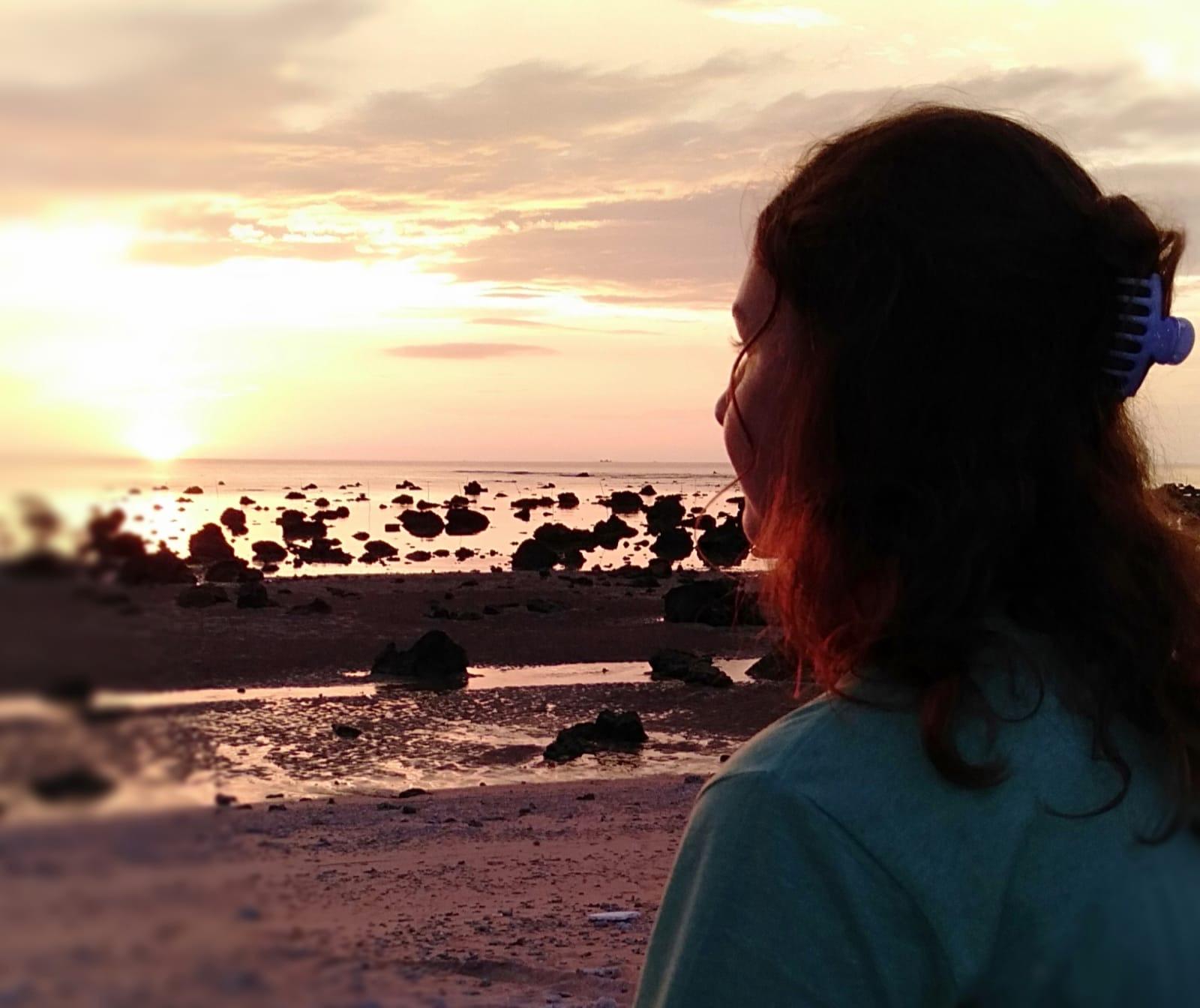 Aaaand something really exciting happened... I started painting my very own board !! Every day I can go through the factory and see how my board gets produced. So cool !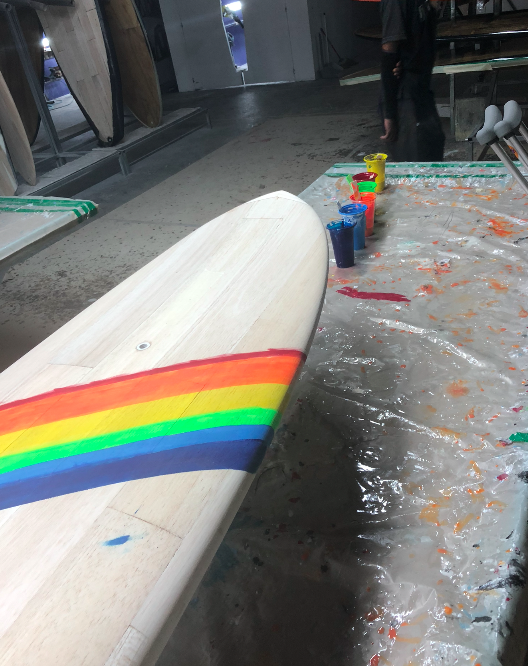 Khao Sok
We went to Khao sok this weekend ! Khao sok = most beautiful national park everrr. To get to our hotel we had to take a boat for one hour. We slept in bungalows on the lake and went Stand Up Paddling. So peaceful and calm. We had such a fun time there ! I'm so happy to have had such a cool last trip !! I've been wanting to go to Khao sok so bad and I'm so happy I could do it before I go home. Please all future interns go there, you won't regret it !! And take some boards with you !!

My last week in Thailand
Even though I want to see my friends and family in Germany again I don't want to leave Sunova. I'm sooo thankful for everything and will most definitely come back when I'm all healed up and ready to go surfing ! 
This week was the Sunova new years party, which was soo cool and fun. Everyone had a football match, then we played games at the factory and in the evening we had a party :D So nice to get to know everyone better. Even though most people couldn't really speak english and I couldn't really speak thai, we still had the best time together. I will miss seeing the people from the factory every day soo much ! But at least I can come back sometime and see everyone again. Hopefully soon :)